Industrial and Safety - Community contribution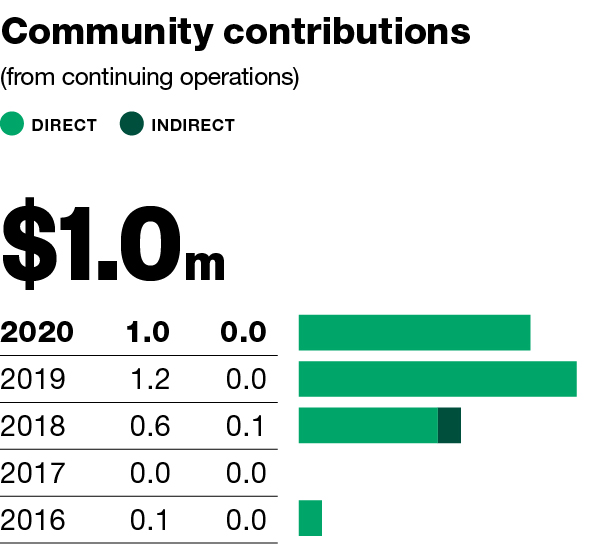 The Wesfarmers Industrial and Safety division strives to make a positive contribution to the communities in which it operates. Each business has formed strong partnerships with large organisations and smaller not-for-profits, spanning a range of different worthwhile causes. As the Industrial and Safety businesses have a presence in many communities, these partnerships are aligned to each business's values and local community needs. This year, the Industrial and Safety division contributed over $973,700 via donated stock, financial contributions, corporate sponsorships and mentoring and volunteer hours. Indirect contributions from team member donations totalled an additional $46,700.

Blackwoods reached a significant milestone in this year, raising a total of $2.0 million for the Fred Hollows Foundation over 10 years. Donations are generated from customers, with a proportion of sales from Prosafe-branded eye and face protection are passed on to the Foundation. Blackwoods, Bullivants, Workwear Group and Coregas participated in the STEPtember 10,000 steps per day challenge and raised $22,101 for the Cerebral Palsy Foundation. Coregas sponsored a City to Surf team in support of the Steve Waugh Foundation by buying shirts for the team members at a cost of $2,390. Other donations were made to the Cancer Council for $1,080, Royal Melbourne Hospital ICU for $20,000 and The University of Sydney first-year Chemical Engineering prize for $1,000.

Greencap supported a range of organisations, including the Skyline Education Foundation by participating jointly in a fundraising team in the Melbourne Marathon. Greencap team members fundraised to purchase a diesel generator to support the Numeralla Countegany Rural Fire Brigade as part of the New South Wales bushfire crisis. Greencap paired the Moving Mindz workplace wellness program with fundraising for The Bernie Banton Foundation (BBF), which was also tied into asbestos awareness month.

NZ Safety Blackwoods donated NZ$100,000 to KidsCan to support Kiwi kids in need and participated in volunteer events throughout the country to offer support to schools as well as volunteering opportunities for team members. Workwear Group and its team members have contributed almost $50,000 in money and goods to Rural Aid to date. This includes a $20,000 donation to the Buy A Bale campaign through fundraising activities such as hosting barbecues, holding a Christmas card fundraiser, and sales of garment samples and excess stock. The Blaze boot designed by Indigenous artist Sally Morgan has enabled a percentage from each pair sold to be donated to the Indigenous Literacy Foundation (ILF). This year, donations totalled $15,000, contributing to the ILF's work in over 400 remote communities.

Due to the COVID-19 pandemic, not all initiatives were able to proceed as planned. This resulted in a slight decrease in contributions this year compared to last year. The division will continue to contribute to its local communities, growing existing relationships and engaging in new partnerships, where possible.