Bunnings - Responsible sourcing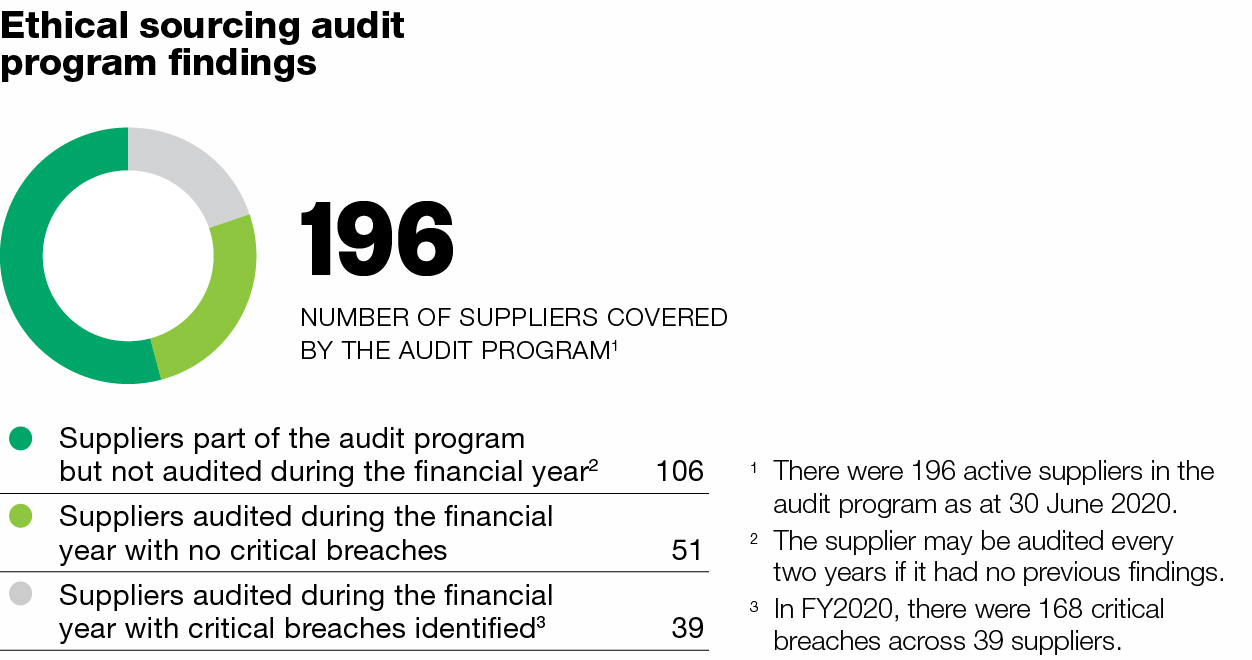 As a leading retailer of home improvement and outdoor living products, the Bunnings global supply chains are complex. Bunnings recognises its role in upholding human rights and supporting sustainable forestry practices through its responsible sourcing program.

Bunnings understands the inherent risk of unsustainable forestry management and modern slavery within the supply chain. Where possible, it seeks to work in partnership with suppliers, certification bodies, civil society and government to scale impact and promote a coordinated approach to addressing these complex issues.
Bunnings' robust ethical sourcing and modern slavery framework continued to underpin its operations, including trading terms, sourcing policies, supplier code of conduct, training and education.

During the year, the Code of Conduct and the Ethical Sourcing Program were reviewed to ensure they remain aligned to international best practice. The update of the Code of Conduct included establishing specific remediation requirements for critical breaches and supporting all tier one manufacturing sites of directly imported goods for resale to register on the Supplier Ethical Data Exchange (Sedex) and complete a Self-Assessment Questionnaire.

In response to COVID-19, Bunnings offered suppliers financial support to cover the cost of a 12-month 'B' Sedex membership for tier one manufacturing sites, relieving a small financial and administration burden during the pandemic.

In January 2020, Bunnings collaborated with a supplier to pilot the Speak Up grievance mechanism in 27 manufacturing sites across China. Speak Up is free for suppliers and is a confidential service available to all workers 24 hours a day. Speak Up validates audit and risk assessment results and provides additional visibility of issues to support the Bunnings Ethical Sourcing Program. Due to COVID-19, the pilot factories were subject to closures and accordingly, no complaints were raised via Speak Up during the year. The continued focus for next financial year is to measure the efficacy of the Speak Up pilot, strengthen Bunnings' grievance response accordingly and increase the number of manufacturing sites involved in the program to amplify workers' voices and identify and manage risk.

Bunnings has a zero-tolerance approach to illegally logged timber and a commitment to only source timber products from legal and well managed forest operations. Following a legal finding that supplier VicForests had not complied with the Code of Practice for Timber Production 2014, Bunnings discontinued future sourcing of timber from VicForests in June 2020.

The majority of Bunnings timber products are sourced from independently certified forests or from forests with demonstrated progress towards achieving independent certification. Bunnings continued working towards its revised 2018 timber policy, requiring all timber in products from natural forests to originate from third party certified forests (e.g. FSC or PEFC) by the end of 2020.

During the year, Bunnings continued to transition suppliers affected by the revised timber policy from demonstrated progress to full certification or plantation sources and this will continue in the first half of the next financial year.
Bunnings' robust ethical sourcing and modern slavery framework continued to underpin its operations. Bunnings reported 168 critical breaches across 39 suppliers in FY2020. Although Bunnings reported more breaches than the prior year, its risk profile remains the same and is supported by continuous improvement in reporting.