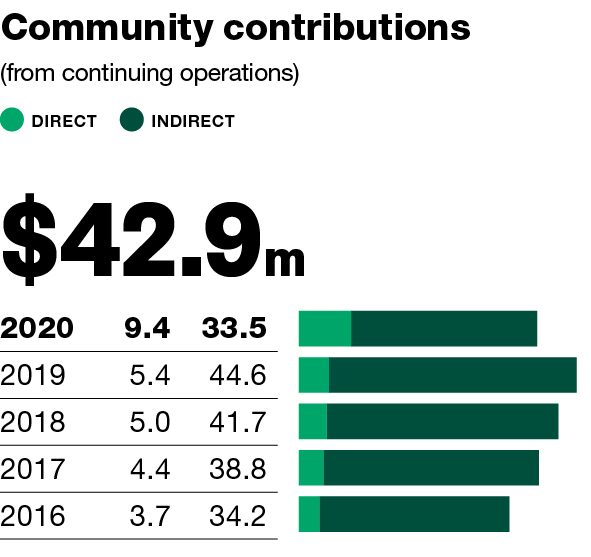 Bunnings has a longstanding commitment to supporting the communities in which it operates. Community involvement provides an important opportunity for Bunnings team members to participate and make a meaningful difference. During the financial year, Bunnings stores helped raise and contribute almost $43 million through more than 72,000 community activities. Support for local community groups included community sausage sizzles, team member involvement in community projects, product contributions and in-store fundraising.

A key focus of Bunnings' community activities was to address the bushfires and ongoing drought conditions that had such a major impact on many communities across Australia during the year.

In November 2019, Bunnings team members in Australia hosted a national sausage sizzle to raise funds for those impacted by recent bushfires and the continued drought. More than $600,000 was raised and contributed, with thousands of people heading to their local Bunnings to buy a snag to support the cause. All funds raised were donated to GIVIT, which facilitates donations of items for people in need.

Bunnings team members across Australia and New Zealand also hosted sausage sizzles in January 2020 to raise funds for those impacted by the Australian bushfires. More than $850,000 was raised and donated to the Australian Red Cross Disaster Relief and Recovery fund.

Additional highlights during the year included the Australian team supporting the Share the Dignity's It's in the Bag campaign for the third consecutive year. Over two weeks, more than 127,000 bags of hygiene products were collected for women and girls experiencing homelessness and domestic violence. In New Zealand, a national sausage sizzle was held for The Salvation Army's Christmas Appeal raising NZ$20,000 to assist those in need in the lead up to Christmas.

Bunnings supported FightMND for the second consecutive year, with beanies sold in all Australian stores and online during May and June 2020. Bunnings also hosted the Bunnings Warehouse Big Freeze Facebook event contributing $500,000 to the event. The Facebook event invited participants to register their attendance online to show their support for the annual Big Freeze event, traditionally held at the Melbourne Cricket Ground with Bunnings pledging $2.50 for every registration received. In total, $1.3 million was raised and contributed to FightMND.

COVID-19 had a significant impact on Bunnings' long run and well-known community activities with sausage sizzles, hands-on activities, disaster relief and in-store fundraising suspended in March 2020. Up until this time, Bunnings' traditional ways of supporting communities had raised and contributed over $36 million.
While traditional areas of community support such as the community sausage sizzles were temporarily unavailable, Bunnings adapted quickly to find innovative new ways of connecting with the community. To ensure groups who had sausage sizzles planned during the first weeks of lock down could find new ways to fundraise, donations of a $500 gift card were made to more than 3,000 community groups representing an investment of over $1.7 million.

Given the cancellation of in-store fundraising activities, Bunnings looked to alternative ways to support key groups that depend on this activity. For example, with the Returned and Services League unable to sell ANZAC Day Appeal merchandise in-store, Bunnings purchased commemorative ANZAC pins on behalf of team members across the Australian network. In New Zealand, Bunnings donated NZ$10,000 to the Royal New Zealand Returned and Services Association.

As local community activities were paused, Bunnings made the unprecedented move to provide an additional $1.3 million in direct donations to national and state-based charities, including The Good Friday Children's Hospital Appeal, The Sydney Children's Hospital Gold Telethon Appeal, Hummingbird House, The Salvation Army Red Shield Appeal, as well as Lions groups across Australia and New Zealand.

Bunnings team members were also keen to maintain their support of local community groups and an internal competition was launched, with engaging team-based challenges run across the country. Winning teams received a donation to contribute to a local charity of the team's choice, resulting in more than 180 community groups who will receive contributions totalling over $1.0 million to assist vulnerable communities during this time.

Bunnings also responded with more than $700,000 in product donations to assist community groups to continue to deliver their essential services. This included donations to promote community safety in remote Indigenous areas such as Balgo in Western Australia.

In total, more than $4.0 million will be contributed to COVID-19 support for the community. Once government restrictions are eased, Bunnings looks forward to resuming its grassroots approach to community involvement and fundraising in a safe and measured way.