Formation of Kleenheat Gas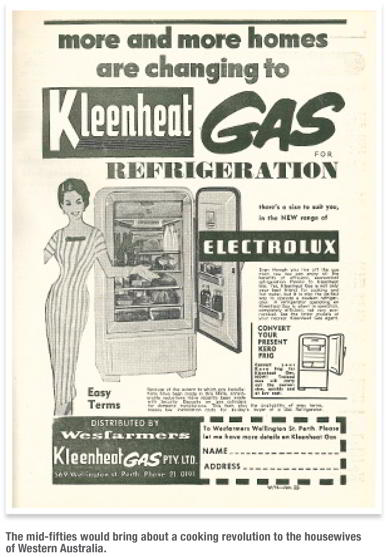 It wasn't just the farmers of Western Australia whose daily life Wesfarmers sought to improve. General Manager John Thomson realised the farmer's wife had a hard life with few modern conveniences. He set out to remedy that.
Determined to make a difference, Thomson met with the board of British Petroleum in London in the northern summer of 1955 to discuss Wesfarmers' entry into the gas business.
He returned with the franchise sewn up to distribute LPG in Western Australia from BP's new refinery at Kwinana.
Kleenheat Gas was formed, pioneering the distribution of both bottled gas and appliances to regional areas of WA.
The company's aim during its early years was to grow a market for LPG, in a country then dominated by electricity and solid fuel.
After surveying every town to establish how many households might use LPG appliances, Wesfarmers ordered LPG compatible Kookaburra stoves and water heaters from Metters in WA and imported kero fridge conversion kits from America. So popular was the idea, that 1500 appliances were sold before Kleenheat Gas was even on the market.
The first LPG was produced at Kwinana in September, 1956 and the first LPG cooker was installed at Geraldton on September 21, heralding a new era of convenience for rural families all over Western Australia.