Micro Gallery: Sky
Theme: Australian landscapes
Dunja Rmandić, Associate Curator Projects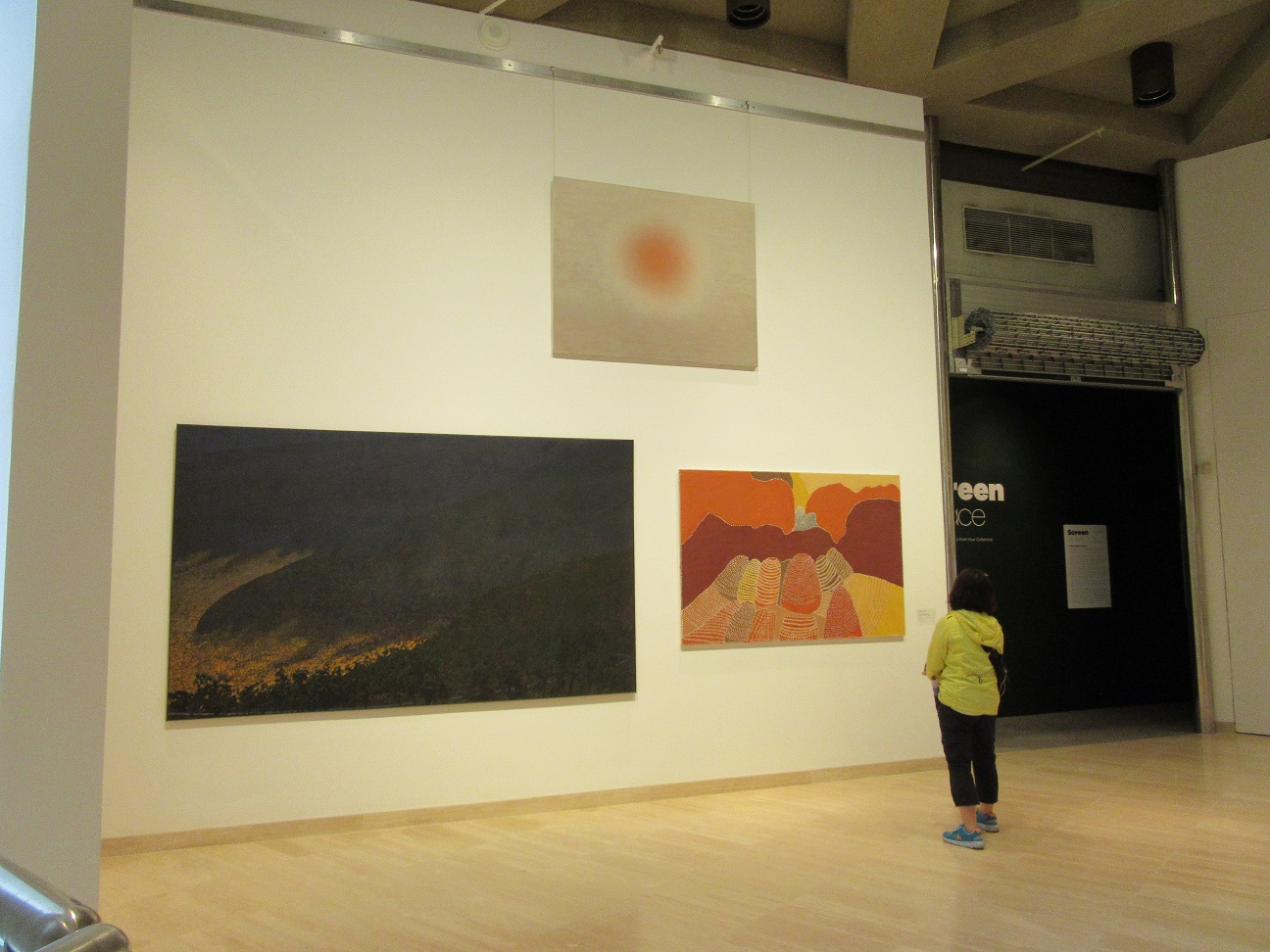 The second installment of the Wesfarmers Collection display focuses on the idea of landscape and what contemporary explorations of the theme can show us about our place, tastes and traditions. Antipodean trees and intense light that among other elements have come to define the 'iconic Australian landscape' can be found in the paintings of Eugene von Guerard, Arthur Streeton and Frederick McCubbin, whose works you can view in our Centenary Galleries. Indeed, the European, and by extension, Australian, landscape tradition has been seeped in symbolism, metaphor and philosophy of the day. In addition to the two works in the Garden Gallery (downstairs), the works in the Sky Gallery also attest to the contemporary manifestations of this.
The Kimberley region comprises a significant geographical and cultural part of the Western Australian landscape. The role of its land to Indigenous peoples' culture and traditions is evident in the work of Kimberley artists like Patrick Mung Mung. Working as a drover in the East Kimberley most of his life, Mung Mung started painting late, following in the footsteps of his father George. Like his contemporary Jack Britton, his deep connection and knowledge of Country comes out in his works depicting mainly Purnululu (the Bungle Bungles) and Ngarrgooroon Country, the latter defined by many hills and waterholes. Part of the Warmun community, he paints in his own distinctive style based on traditional ochre painting, using block colours and ochres sourced from the country he is painting.
Subject to many elements and weather changes, the Kimberley, like much of Australia, has battled with heavy storms and bushfires. One of these bushfires, with its rapid advance, has been depicted by WA painter George Haynes in Bushfire (1983), painted the same year as Delafield Cook's A haystack in the Garden Gallery. The two visions of the Kimberley—Mung Mung's and Haynes'—side-by-side respectively depict how culture and nature have worked together to define that landscape over millennia.
Bringing them together is Howard Taylor's Bush fire sun (1996), which transcends landscape painting through observation of the life source itself. With the help of bush fire haze, he turns light, an object of his life-long painterly enquiry, in on itself and guides us to look at it as an object in space.
While painterly concerns still dominate the genre of landscape painting so too does narrative. Western Desert-born artist Pantjiti Mary McLean uses her canvases as storyboards to tell stories from her childhood and to depict traditional life. Much of her knowledge was acquired before she had any contact with white society, contact which was marked by the removal of her son, and knowledge which she has used to tell 'secular' stories. Living on the land (2000) depicts a woman having a baby that is being smelled by a dog who will protect it, while another dog has caught an emu, which another woman is preparing to cook. A poisonous snake appears and people scatter, while men hunt kangaroo and birds fight with each other. For McLean, this painting is 'a big story about life on the land. Ngurranka—home.'
What is subterranean is sometimes just as fascinating as what is on and above land. Like ambers burning underground for weeks after a fire, tree roots, animal borrows and substrata have their own version of the sublime. Andrew Browne's painting Visitation (2009) is a process of painting and removing pigment and yet it reminds us of photograms, images created by laying an object directly onto a light-sensitive plate, exposing it and defining the object in stark white. The title Visitation reminds us of another photographic practice, that of spirit and aura photography linked with the occult. The tree roots, stumps and accidental objects found or imagined in Browne's landscape travels have a life of their own, independent from us, and yet, at the same time, crave our gaze to imbue them with meaning.
When landscape and people come together, history is made. Dowerin and Wyalkatchem are two towns in the Western Australian wheat belt where photographer Brad Rimmer grew up. Subject of his series Silence, the towns which were once the administrative and community centres of the WA food bowl, now rest on a dwindling population and social struggles. The dusty drive-in at Dowerin has been desolate for years, but left as a memento of a once vibrant community, a moment of reminiscing or a prop to tell stories. The tractor tracks seem to point out of Wyalkatchem, leaving us to imagine the last vehicle slowly driving out of town and towards the coast. While Delafield Cook's vision downstairs rests on promises, dreams and futuristic utopias, Rimmer's is that of contemporary reality.