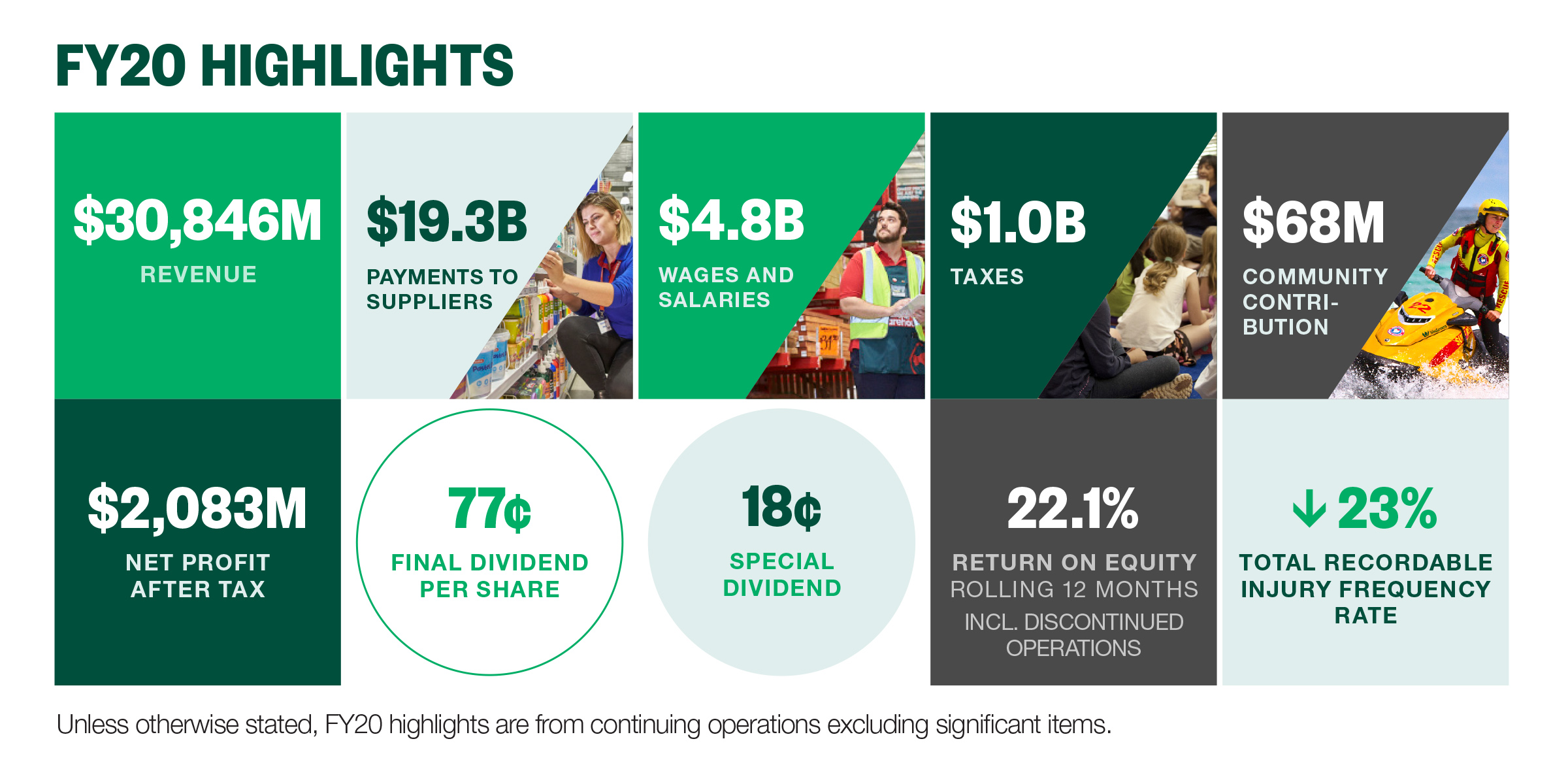 "The 2020 financial year will be remembered as one of the most challenging of the last half century," writes Wesfarmers Chairman Michael Chaney in his message to shareholders in the Group's just released Annual Report. "In the circumstances, Wesfarmers performed very well."
The annual report is part of a suite of information released this quarter detailing how the Group and its 107,000 team members performed in a year which included last summer's catastrophic bushfires and the profound changes in everyone's lives caused by the COVID-19 pandemic. Mr Chaney said the two events had given Wesfarmers the opportunity to demonstrate its purpose and values in action.
"Over the years, much has been said and written about the need for companies to consider the interests of all stakeholders, not just shareholders. That has always been Wesfarmers philosophy. While we are very clear that providing satisfactory returns to shareholders is our primary purpose, we have always qualified that by pointing out we could never achieve that objective over the long term if we did not protect and enhance the interests of our other stakeholders – our employees, customers and suppliers – and if we did not take care of the environment or support the communities in which we operate."
In his report to shareholders, Managing Director Rob Scott said the Group's businesses and teams had responded to the challenges in the most remarkable way, with empathy, professionalism and determination. Most importantly, they had developed and implemented COVID-safe ways of operating, which had enabled them to remain trading in most regions, maintaining jobs and supporting customers and suppliers.
"If there was a positive to take out of this terrible time, it is our capacity to respond rapidly to changes in our environment and to demonstrate the value we provide to the communities in which we operate," he wrote.
Mr Scott said the efforts in recent years to invest and improve the digital offer to customers had supported significant growth in online sales in FY2020, including the expansion of contactless click and collect options and the acquisition in August last year of online marketplace, catch.com.au.
"Wesfarmers businesses' generated ecommerce sales of over $2 billion. This is another example of how the Wesfarmers model enables our businesses to adapt and evolve to changes in markets and customer demand."
Our 2020 Annual Report, which includes extensive information on our financial and sustainability performance, is available at wesfarmers.com.au. You can also read more about the work Wesfarmers is doing to consider the interests of all stakeholders in the Sustainability at Wesfarmers section of our website, including many real world examples under Our Stories.