Kmart trials a Quiet Space for customers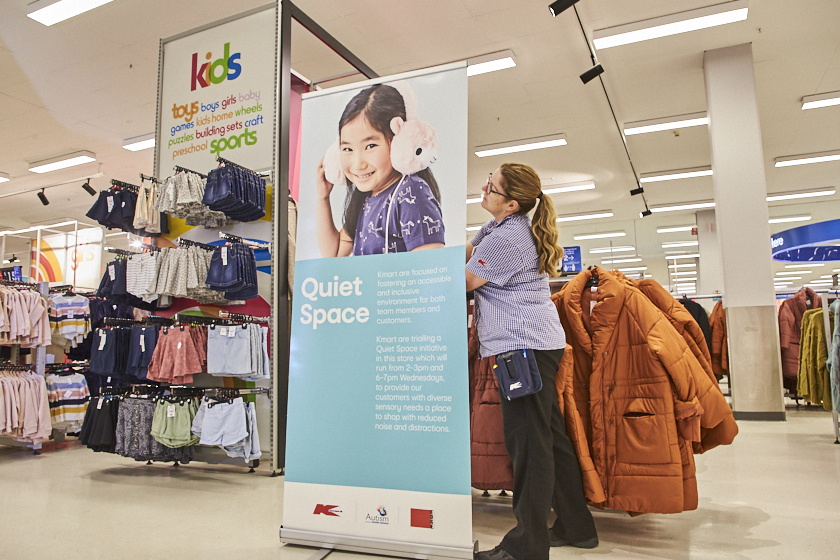 In February 2020, Kmart commenced a pilot of an accessibility initiative called Quiet Space. Quiet Space offers customers the opportunity to shop in a low-sensory environment with reduced noise, lighting and limited distractions. The introduction of Quiet Space has assisted several customers to access Kmart stores who may react differently to sensory information, including people on the autism spectrum or with varying mental health conditions. Sensory information refers to information that an individual's brain collects from the surrounding environment, including taste, smell, sound, sight and touch.

Kmart is currently offering the Quiet Space trial in 26 stores across Australia and New Zealand operating from 2pm to 3pm and 6pm to 7pm every Wednesday, providing an accessible option for customers to shop both in and outside core business hours. Some of the environmental changes that occur during a Quiet Space session include: dimmed store lighting; lower-volume store music; registers and phones; minimal use of equipment on the shop floor; and store signage indicating high-sensory areas.

To support Quiet Space, Kmart has partnered with the peak autism bodies across Australia and New Zealand and Kmart's disability employment service partners. Quiet Space partners have supported Kmart with a range of educational resources for leaders and team members within participating stores.

Kmart is currently conducting a post-implementation review of the pilot and is connecting with each partner and their networks to better understand the positive impacts and opportunities to improve the initiative.