Ethical sourcing audit program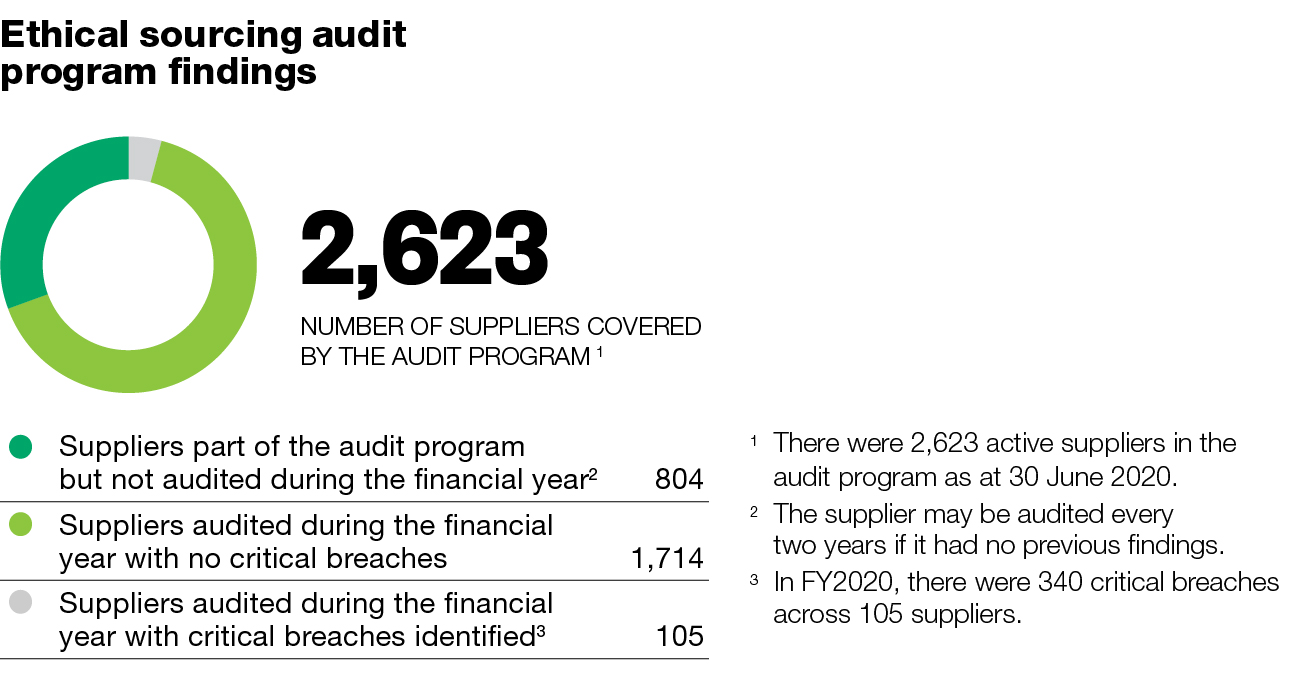 To mitigate the risk of unethical practices in our supply chain, our businesses have ethical sourcing programs in place that take a risk-based approach and consider suppliers of products (both goods for resale and goods not for resale) and services. This risk-based approach sees our retail divisions concentrating due diligence on suppliers supplying own-brand products as well as services, both in Australia and overseas.

All our retail businesses apply an ethical sourcing audit program for certain suppliers. Notwithstanding the constraints caused by COVID-19 restrictions, this year, our divisions' audit programs covered more than 2,600 suppliers to our businesses. Suppliers in the audit programs must undertake an assessment as mandated by our businesses. Our retail businesses conduct announced or unannounced audits of suppliers in their audit program by their own teams or third parties. Where an audit identifies non-compliance, the factory is required to fix the issue within an appropriate period. During the year, our divisions identified 340 (2019: 127) critical breaches across 105 (2019: 90) suppliers. In the 2020 financial year, Bunnings evolved its critical breach reporting process to align with the SMETA methodology. Although Bunnings is reporting more breaches than last year, fundamentally Bunnings' risk profile remains the same and is supported by continuous improvement in reporting.
Identifying critical breaches helps us identify potential modern slavery and ethical sourcing risks and we believe it is something all businesses should publicly do, to continually improve and have a greater impact.

The critical breaches included allegations of excessive overtime, transparency (record keeping and documentation), safety (building and fire safety), forced labour, unauthorised subcontracting and bribery. Of the critical breaches, 161 were remedied immediately, 135 had action plans that were on-track at the end of the reporting period, 4 critical breaches related to 3 suppliers that were exited immediately and no further supply orders were placed at the remaining 17 suppliers with 40 critical breaches.

In line with our autonomous business model, our divisions have different approaches to classifying critical breaches depending on their risk appetite. Some divisions use the SMETA framework for guidance when setting their classification system for any significant issues identified.

From 1 July 2020, all our divisions will have greater alignment with the SMETA audit format and will partially use the SMETA definitions for classifying the significance of issues in their reporting.

Our divisions ethical sourcing audit programs in 2020 are summarised on their divisional pages.

Work is underway to integrate Catch Group into Wesfarmers' reporting processes and procedures. However, that work is not yet complete. We expect that Catch Group will be able to report in line with all Wesfarmers metrics in 2021.

WesCEF has developed an Ethical Sourcing and Modern Slavery Policy which establishes its minimum expectations from suppliers in relation to labour rights issues and address the risk of unethical behaviour in its businesses and supply chains. As a result, all new suppliers are required to complete a questionnaire based upon compliance with this policy. All new contracts have a clause requiring suppliers to agree with and adhere to WesCEF's Ethical Sourcing and Modern Slavery Policy.
We recognise that social compliance audits can encourage positive behaviour among suppliers to safeguard human rights, but we recognise that a multifaceted approach is required to tackle such a complex issue. To complement our ethical sourcing audit programs, we foster longterm direct supplier relationships with fewer suppliers to help us work with suppliers to safeguard human rights. We collaborate with industry-wide initiatives. This year, over 10,000 hours of training was delivered to relevant team members on ethical sourcing risks and how to mitigate them via responsible buying practices.
GRI 102-9, GRI 102-10, GRI 102-15, GRI 102-16, GRI 103-1, GRI 103-2, GRI 103-3, GRI 407-1, GRI 408-1, GRI 409-1, GRI 412-1, GRI 412-2, GRI 414-2