Kmart Group - Waste and packaging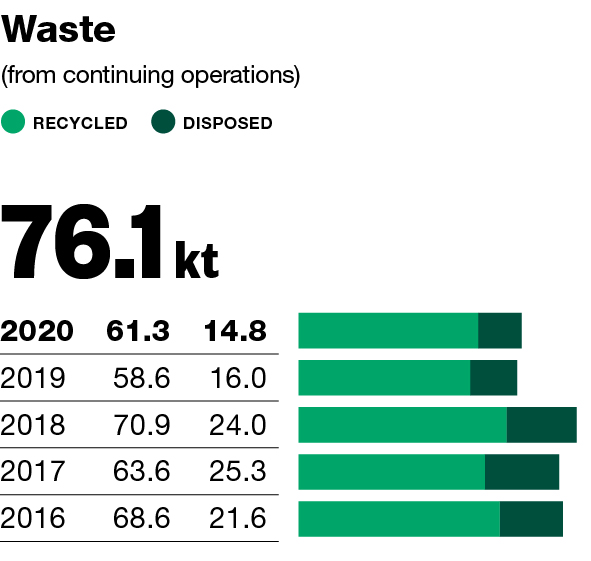 Minimising waste remains a significant challenge for businesses in the Australian retail sector and Kmart Group is committed to playing its part through its ongoing efforts to reduce, reuse and recycle its store and distribution centre waste and consumer packaging.

Waste
Waste diversion from stores and distribution centres across Kmart Group improved from 79 per cent last financial year to 81 per cent this financial year during a period challenged by volatile markets for recycled materials and COVID-19.

In response to the need to improve waste diversion and manage recycling and waste system volatility with growing challenges in Asian markets for Australian and New Zealand waste, Kmart Group has continued to implement the Better Together Waste Diversion program. This year's focus included data collection/analytics and the execution of a national waste and recycling tender, which provides the foundation for a strategic focus on waste diversion, efficient systems, accurate data collection, equipment, source separation signage and team member training in stores and distribution centres.
Kmart Group's membership of TechCollect has funded the collection and recycling of 303,893 kilograms of complying e-waste items, including televisions, computer and peripheral devices. TechCollect was set up by the Australia and New Zealand Recycling Platform as the official government-approved e-waste recycling program.

Packaging
The 2020 financial year focused on establishing the foundations required for Kmart Group to improve the sustainability of its packaging by December 2023. Following the engagement of a packaging engineer, new sustainable packaging principles and standards have been developed that align with the Australian Packaging Covenant Organisation's Sustainable Packaging Guidelines and the Australian government's 2025 goals and national waste policy.
These will be implemented through new materials focused cross-functional working groups and a Sustainable Packaging Program Manager role that has been created within Kmart Group's sourcing operation. While Kmart Group has been able to secure material details (type and weights) for approximately 73,000 products, packaging data along with limited options for recycling of soft plastics continues to be a challenge that has limited applications for the Australasian Recycling Label to approximately 300 products to-date. See more details on Kmart's efforts to promote sustainable packaging.