Kmart Group - Natural resources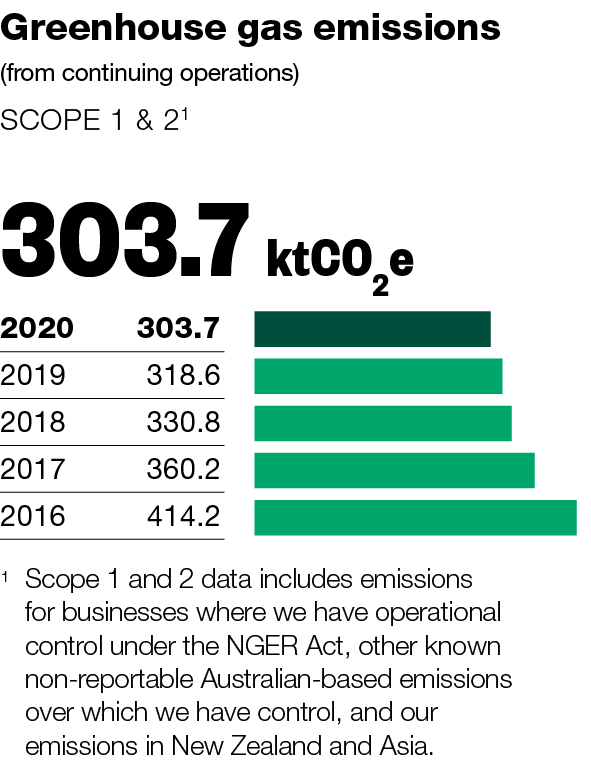 As a large retailer of products that consume natural resources in many steps of the production process, Kmart Group has a responsibility to use natural resources responsibly and source materials in a way that minimises environmental impact.
Accordingly, the sustainable use of natural resources continues to be a key focus of Kmart Group's sustainability commitments.

Energy
In the 2020 financial year, Kmart Group achieved a six per cent year-on-year reduction in its electricity use per square-meter of its stores' gross footprint. The reduction is attributed to Kmart's implementation of the energy conservation measures identified from energy audits, reduction in baseload at several Target sites as a result of a large-scale rollout of upgrades to building controls, as well as through continuous energy monitoring and mitigation of increase energy events. Relatively milder weather in the second half of the year, in addition to the reduction in trading hours due to COVID-19 restrictions, have also contributed to the net decrease in energy consumption.

Since the end of the 2020 financial year, Kmart Group accelerated its plans to reduce emissions, targeting net zero Scope 1 and 2 emissions by 2030.
Kmart Group's focus over the next financial year will be on planning for the implementation of the remaining major capital energy efficiency projects in conjunction with introducing renewable energy procurement in line with its sustainability targets.

Water and chemicals
Minimising water usage and restricting chemicals used in production, such as dyes, colourants and solvents, is important to ensure product safety and to reduce risk to water systems. Managing this risk is particularly critical in the production of apparel and textile products given the high use of water in the washing and dyeing processes of fabric mills and laundries.
As part of its Better Together sustainable development program, Kmart Group has committed to two time-bound targets to minimise its impacts on water:
By July 2023, the business will capture total water usage data and implement a water efficiency improvement plan with 100 per cent of the wet processing facilities (fabric mills, laundries) used by strategic supplier factories to manufacture own-brand clothing, towel and bedding products.
By December 2025, 100 per cent of the wet processing facilities (fabric mills, laundries) used in the production of own-brand clothing, towel and bedding products will be compliant with the ZDHC manufacturing restricted substance list (chemicals MRSL).
To support the implementation of these commitments with suppliers, the business has joined the Sustainable Apparel Coalition (SAC) and Zero Discharge of Hazardous Chemicals (ZDHC) foundation. Drawing on the standardised tools and guidelines provided by SAC and ZDHC, Kmart Group has assessed the current performance of mills used by its strategic suppliers, with action plans under development and to be implemented in the next financial year.
Sustainable materials
During the year, Kmart and Target continued the implementation of their sustainable cotton commitments. In addition, Kmart Group extended this commitment by introducing time-bound targets for the responsible sourcing of a wide range of materials. For Target, this will mean sourcing 100 per cent of polyester, nylon, cellulose and wool for its own-brand clothing, towels and bedding from fully traceable and verified sources, or in compliance with a sustainable standard, or from recycled materials, by July 2024.

Similarly, Kmart will be focused on the responsible sourcing of materials for its own-brand clothing, towels and bedding. In addition, the Kmart business has committed to phase out 10 priority single-use plastic products and problematic plastics, and the inclusion of recycled materials and plant-based plastics over time. The establishment of an Animal Welfare Policy this year represents another important step forward in the transition to verified responsibly sourcing practices within the key areas of wool and leather.

Work is underway to build on the success of product ranges piloted in the past year, such as the Target activewear range made from recycled plastic bottles and viscose range made using wood pulp sourced from responsibly managed forests, through the development of a clear roadmap for scaling these initiatives over the next three to five years. This will include continued engagement and training with suppliers, design, buying and sourcing teams, as well as an increased focus on innovating in fibre recycling and circular design.