Kmart Group - Human rights and ethical sourcing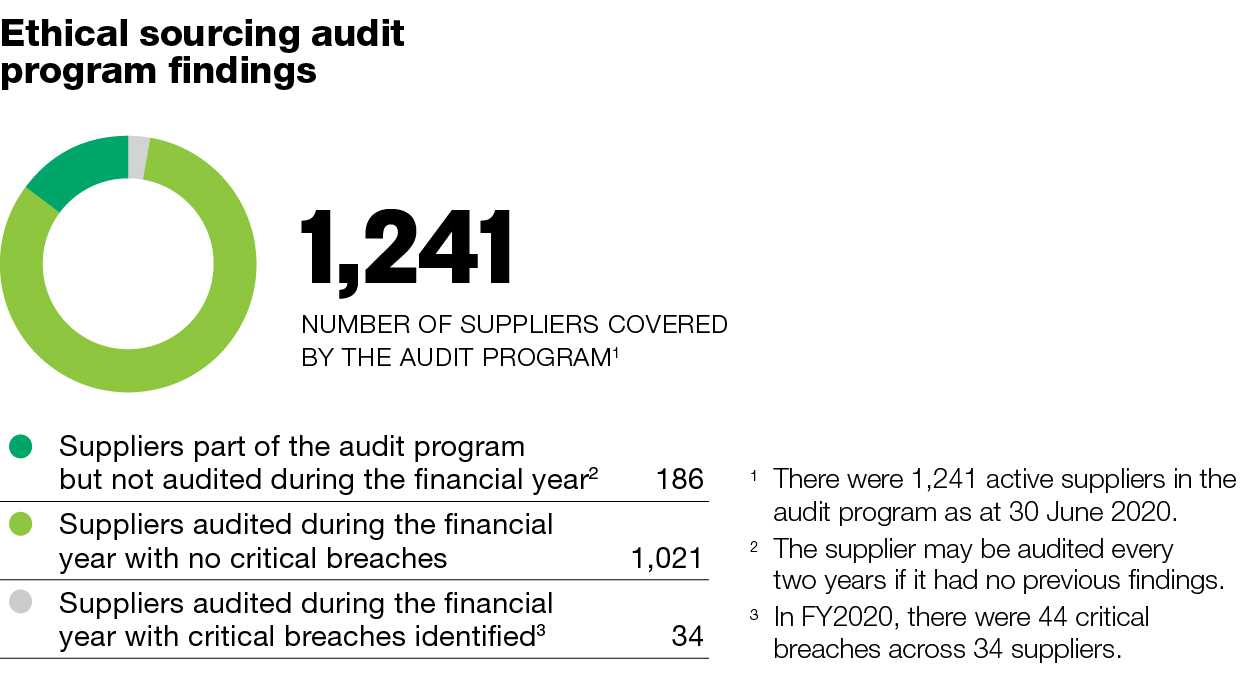 Kmart Group acknowledges its responsibility to respect human rights and promote environmental sustainability within its supply chain. Stakeholders rightfully expect the retail products sold across the Kmart Group retail network do not come at the expense of the rights of the workers that produce them or adversely impact the environment of Kmart Group sourcing countries.

The complexity and depth of the Kmart and Target supply chains remains a key challenge for Kmart Group in its ethical sourcing (ES) and wider sustainability efforts. During the 2020 financial year, Kmart and Target continued their efforts to strengthen the Kmart Group Ethical Sourcing Program with a focus on improving modern slavery risk mitigation controls and expanding the program beyond the retail merchandise supply chain to capture goods not for resale (GNFR) and service providers.

Achievements in the 2020 financial year included:

Rollout of the new Kmart Group ES Code and accompanying audit program, which incorporates new minimum standards to mitigate the risk of modern slavery. This included new standards specifically addressing migrant labour and hiring practices.
Development of internal guidelines (which are being piloted in the 2021 financial year) designed to extend the ES program beyond the merchandise supply chain to capture high-risk GNFR and service providers.
Adoption of a Kmart Group Animal Welfare Policy outlining specific animal welfare standards that must be met by suppliers of retail merchandise.
Kmart and Target endorsed the Call to Action COVID-19: Action in the Global Garment Industry, which aims to generate action across the global garment industry to protect workers' income, health and employment, and support employers during the COVID-19 crisis, as well as establish sustainable systems of social protection for a more just and resilient garment industry. See more information on the impact of COVID-19 response and ethical sourcing here.

Kmart Group also formalised, and commenced implementation on, three human rights related commitments as part of its wider Better Together commitments:

By July 2022, Kmart and Target will identify and publish 100 per cent of tier 2 processing facilities that produce Kmart/Target own-brand clothing, towel and bedding products.
By Dec 2023, Kmart and Target will improve purchasing practices with suppliers of Kmart/Target own-brand apparel and footwear by implementing the ACT Global Purchasing Practices Standard.
By Dec 2025, Kmart and Target will provide professional skills, health or education training to at least 100,000 women in their supply chain.

Kmart Group's Better Together commitments reflect its broader efforts to increase traceability beyond the tier one supply chain and improve the lives of the workers in its supplier factories, which will remain a key focus in the future.