WesCEF - Safety and wellbeing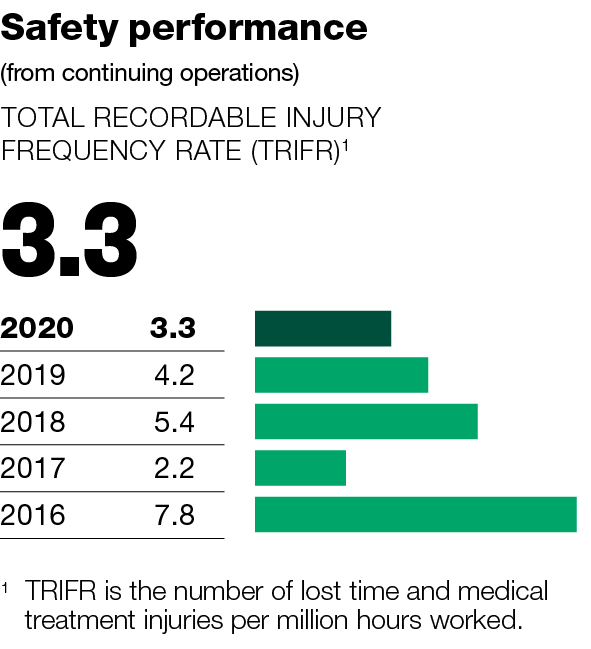 Wesfarmers Chemicals, Energy and Fertilisers (WesCEF) employees operate in a high-risk environment and as a result, managing the safety and wellbeing of its people within the workplace is a priority. WesCEF's total number of recordable injuries this year was 11 compared to 13 last year and 16 in the 2018 financial year, continuing the downward trend.

WesCEF responded quickly and effectively to mitigate health and business continuity risk associated with COVID-19. A Crisis Coordination Team was formed, drawing on the expertise of 15 internal working groups managing critical areas, including shipping, IT, data management, customer service, personal protective equipment, cleaning protocols and working from home. WesCEF remains in a strong position to manage the ongoing risk that COVID-19 presents.

During the year, WesCEF continued to improve its High Potential Risk Management Program aimed at preventing incidents that could cause serious harm or permanent injury. Checklists were developed to support in-field safety discussions and ensure critical controls are in place before work commenced. The program will be expanded next year to include process safety risks
WesCEF also refreshed its safety brand, Safe Person, Safe Process, Safe Place, to align safety themes and messages with key safety competencies and business requirements. Communication channels to enhance safety messages were also reviewed, with new initiatives developed such as leader conversation guides and identifying business-wide safety champions. Safety communications will continue to be a key focus in the 2021 financial year.
WesCEF continues to invest in the wellbeing of employees through its Wellness at WesCEF program. Over 70 per cent of employees completed resilience and mental health awareness training. WesCEF also engaged a nutritionist to facilitate an information session for employees and contribute to a monthly wellness and nutrition newsletter.