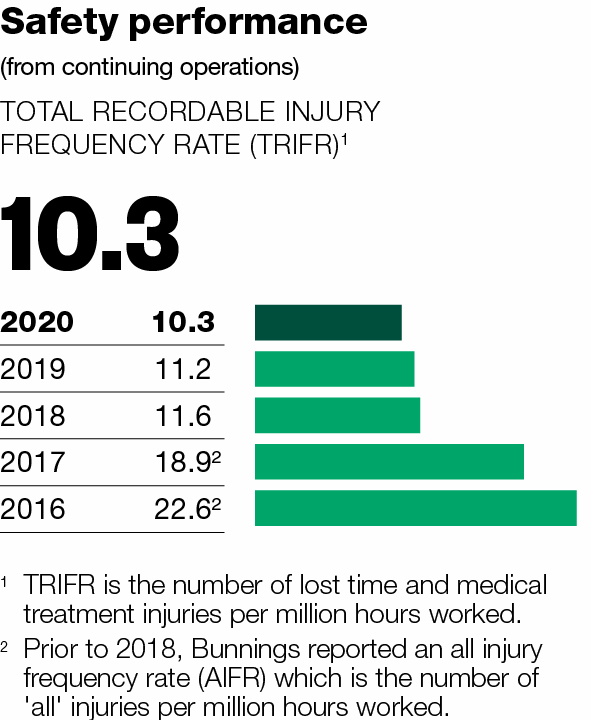 Bunnings employs more than 48,000 team members across the business. Team members are the most important part of its business and their safety and wellness remains the highest priority. In the 2020 financial year, there was a 4 per cent reduction in the number of injuries recorded and an 8 per cent reduction in the total recordable injury frequency rate.

Key safety initiatives included leveraging their internal social media platform, Workplace to consult, engage with the team and share learnings across the business, as well as improving the performance reporting for sites.

Forklift safety was again a major focus, with the introduction of video-based education and shared learnings for forklift operators. Bunnings also introduced new technology counterbalance forklifts to the network from June 2020, representing an investment of $32 million.

Safer handling of products was driven through a new merchandise safety working group to address and respond to incident data and information gathered from team members. The working group identified products that have increased manual handling safety risk, particularly heavy and bulky products, with risk reduction strategies implemented to reduce injuries.

Throughout the year, cross-functional learning teams were introduced to review serious incidents and a critical risk program began, with assessment, analysis and verification across each critical risk commencing.

Wellness was a key focus during the year, with trials conducted on a wellbeing app and onsite wellbeing champions. Best care for the team was strengthened with the release of 12 new 'mind matters' cards focusing on mental health and wellbeing.

COVID-19 presented new challenges requiring rapid changes to ensure the safety and wellbeing of the Bunnings team and customers. Changes were made to operational activities, layouts of stores, and systems and processes to ensure Bunnings could continue to safely trade during the pandemic. Specific support and alternative arrangements were made available to team members at higher risk during COVID-19. Reporting measures were introduced to track team member travel, as well as suspected and confirmed cases of COVID-19.

A dedicated Stronger Together online Workplace group was created to provide additional mental health resources to support team members during the challenges of COVID-19. Material included videos with Hugh Van Cuylenberg from The Resilience Project, wellbeing videos produced in collaboration with their health partner, BUPA, information sheets on specific mental health issues and new 'mind matters' cards that addressed areas relevant to the pandemic.

Next financial year will see a further evolution of the safety and wellness strategy. This will focus on harnessing the knowledge of and feedback from the team to make safety simpler and easier, enabling and empowering the team to own and lead safety. Bunnings will also implement controls to reduce critical risks and broadening wellbeing support for its team members.
Bunnings revised its Inclusive Leadership Awareness training program to focus on practical solutions, the benefits of diverse and inclusive teams, unconscious biases and benefits of workplace flexibility. The program has been run with over 350 complex managers, operations managers and store support leaders.