Helping to build a more reconciled Australia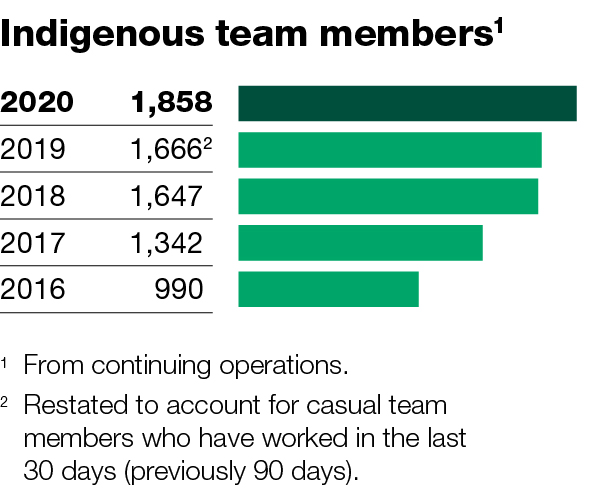 Our vision for reconciliation is an Australia that affords equal opportunities to all. Wesfarmers strives to ensure that Indigenous people feel welcome in our businesses as employees, customers, suppliers and visitors. We know one measure of success will be when we have a workplace that reflects the diversity of the communities we serve. The current and prior Reconciliation Action Plans can be found here.
Wesfarmers' Reconciliation Action Plan is focused on five core areas.
1. SUSTAINABLE EMPLOYMENT
As one of Australia's largest employers, we are continuing to provide sustainable employment for Aboriginal and Torres Strait Islander people. As at 30 June 2020, 1,858 Aboriginal and Torres Strait Islander team members worked in our businesses. This equates to 1.9 per cent of our Australian workforce. This figure includes all full-time and part-time Indigenous team members and casual team members who have worked a shift within the 30-day period prior to reporting. We recognise that we have work to do to achieve our target of employment parity of three per cent of our Australian workforce by 2022.

2. CAREER PROGRESSION
We are committed to providing opportunities to Indigenous people to expand their careers. Currently, high potential Indigenous team members are identified and developed through existing talent management processes. During the 2021 financial year, we will focus on deliberate strategies for increasing Indigenous people in leadership positions. We will continue to develop our partnership with CareerTrackers to form pathways for young Indigenous professionals into our business.
3. INDIGENOUS PROCUREMENT

Supporting Aboriginal and Torres Strait Islander businesses is an important contributor to the economic empowerment of Indigenous people with important flow-on effects to families and communities. During the year, we paid more than $28 million to Indigenous suppliers.
4. COMMUNITY PARTNERSHIPS
We continue to invest in community partnerships that are focused on Indigenous affairs and that add value to our partner organisations, the community and our businesses. We were a founding supporter of the Clontarf Foundation at its inception in 2001, and we continue to support young Aboriginal men through the Foundation by employing more than 330 young Indigenous men through Clontarf. We also partner with the Girls Academy to increase opportunities for young Aboriginal and Torres Strait Islander women to commence their careers within our business.
5. CELEBRATING INDIGENOUS CULTURE
As a nation, we benefit enormously from the opportunity to understand more about the richness and diversity of Indigenous culture through the work of Indigenous artists. Wesfarmers has worked in collaboration with Indigenous cultural organisations, artists and communities for over four decades – collecting, commissioning and documenting the work of living Indigenous artists through The Wesfarmers Collection of Australian Art and through our long-term partnerships with the National Gallery of Australia (NGA) and premier Indigenous arts companies like Yirra Yaakin Aboriginal Theatre.
We are especially proud to have partnered with the NGA since 2010 on the national mentoring initiative the Wesfarmers Arts Indigenous Leadership program and to present the forthcoming international touring exhibition, Everpresent: The Art of Australia's First Peoples, showcasing more than 130 years of Indigenous art from 1887 to the present. Drawn from the Wesfarmers Collection and National Gallery of Australia, the exhibition is scheduled to open at the Art Gallery of Western Australia in 2021 and to begin its international tour at the National Gallery of Singapore in 2022.

The project is Indigenous led and developed, providing an opportunity for alumni of the Wesfarmers Arts Indigenous Arts Leadership Program to work on the international stage.

In 2020, Wesfarmers' corporate office contributed more than $4.5 million in support of the activities of 14 leading arts organisations and acquired several major works of Indigenous art for The Wesfarmers Collection of Australian Art.

GRI 103-1, GRI 103-2, GRI 103-3, GRI 405-1, GRI 103-1, GRI 103-2, GRI 103-3, GRI 406-1