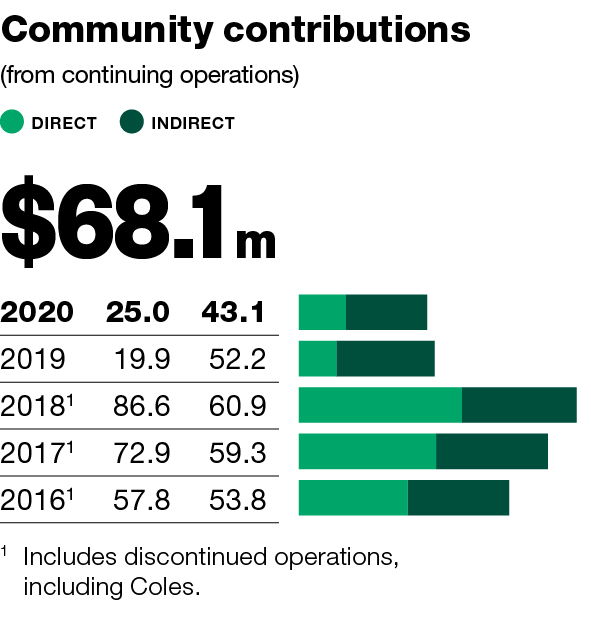 Reflecting the Group's divisional autonomy, community engagement is principally driven and managed by our businesses to ensure value is created in ways that best address the needs of their customers and communities. In the 2020 financial year, the Group contributed approximately $68 million to community organisations in Australia, New Zealand and other regions where we operate, including $25 million in direct social investment in community organisations. The Group also facilitated indirect contributions from customers and team members totalling more than $43 million. In the last year, indirect contributions were impacted by COVID-19, for example the temporary suspension of Bunnings community sausage sizzles.
While traditional areas of community support such as the Bunnings community sausage sizzles were temporarily unavailable due to COVID-19, Bunnings adapted quickly to find innovative new ways of connecting with the community. To ensure groups who had sausage sizzles planned during the first weeks of lockdown in Australia and New Zealand could find new ways to fundraise, donations of a $500 gift card were made to more than 3,000 community groups representing an investment of over $1.7 million.

Wesfarmers at a corporate level partners with community organisations in three key areas: medical research and wellbeing, education and the arts. Across these areas, we also look to partner with organisations that have significant Indigenous programs, including Indigenous-led programs. This year Wesfarmers Corporate contributed $9.8 million to more than 25 small, medium and large community partners. We maintain close relationships with our partners, engaging with them throughout the year to see how our contributions are advancing their programs.

Following the devastating bushfires that impacted Australia over the summer of 2019/2020, Wesfarmers committed to underwrite a donation of $1.5 million from across the Group to support our charity partners and other organisations involved in the enormous rebuilding task. This is in addition to the $200,000 pledged by Wesfarmers divisions in late 2019 and the donation of critical products and in-kind support already provided on the ground in affected local communities. More than $600,000 was raised for GIVIT for bushfire and drought relief from the national Bunnings sausage sizzle held on 22 November 2019 and more than $850,000 was raised for the Australian Red Cross Disaster Relief and Recovery fund from the Australian and New Zealand Bunnings sausage sizzle held on 24 January 2020.
Wesfarmers Arts
Wesfarmers has been a leading supporter of arts for more than four decades. Our partnerships with a diverse range of premier arts and cultural organisations in Western Australia and nationally reflect our belief in the vital contribution that the arts make to vibrant communities in which creativity and innovation flourish. This year, we stood by our arts partners during the COVID-19 crisis, providing significant, targeted support to keep artists employed when performances were suspended and galleries were closed.

During the year, we provided more than $4.5 million in support of the activities of 14 leading arts organisations, including the National Gallery of Australia, Perth Festival, the Art Gallery of Western Australia, West Australian Ballet, West Australian Opera, West Australian Symphony Orchestra, Black Swan Theatre Company, Awesome Children's Festival, Form Contemporary Craft and Design, Co3 Contemporary Dance and Yirra Yaakin Aboriginal Theatre as well as the Western Australian tours of the Australian Chamber Orchestra, Bell Shakespeare Company and Musica Viva Australia.

Alongside our arts support program, the Wesfarmers Collection of Australian Art reflects the diversity of creative Australia through the work of our country's defining artists. During the year, we shared works from our collection with museums and galleries across Australia and online via Instagram and the Wesfarmers Art Collection app, which is available free from the App Store. A highlight of the Wesfarmers Collection is our holding of more than 300 premier works of art by Indigenous artists, reflecting the rich diversity of Indigenous culture in Australia. As part of our commitment to celebrating the work of living Australian Indigenous artists on the world stage, we are sharing our Indigenous collection with the international community in the forthcoming exhibition Everpresent: The Art of Australia's First Peoples showcasing more than 130 years of Indigenous art from 1887 to the present. Drawn from the Wesfarmers Collection and our arts partner, the National Gallery of Australia, the exhibition is scheduled to open at the Art Gallery of Western Australia in 2021 and begin its international tour at the National Gallery of Singapore in May 2022 then travel through China in 2022 and 2023.
Click here for more on Wesfarmers Arts.
GRI 103-1, GRI 103-2, GRI 103-3, GRI 201-1, GRI 413-2