Timothy Cook - Jilamara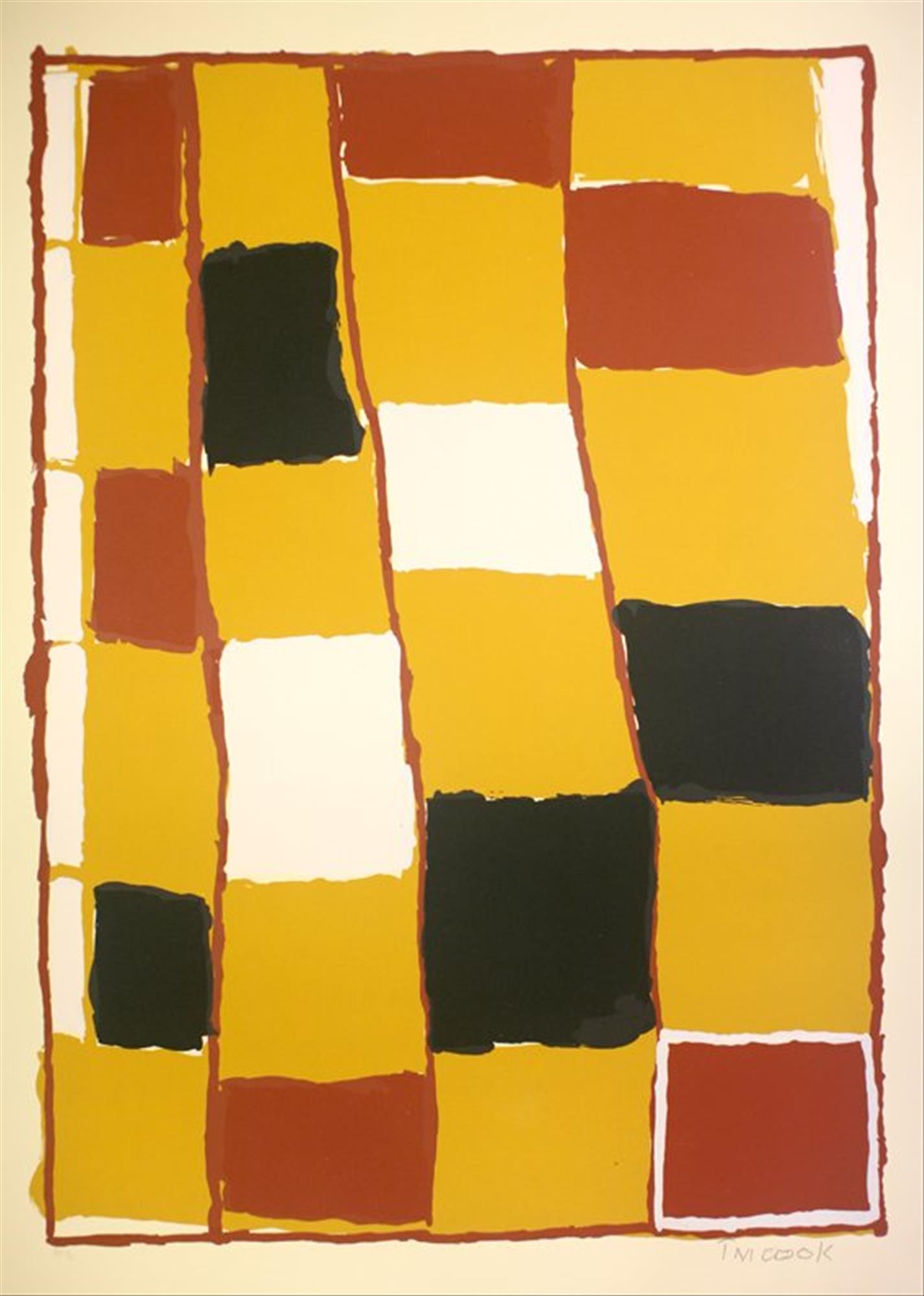 TIMOTHY COOK
born 1958
lives and works on Melville Island, Tiwi Islands, NT.
Jilamara 2002
screen print
66cm x 47cm
Timothy Cook is a Tiwi man born on Melville Island in the Northern Territory in 1958 and is a leading artist of the Jilamara Arts and Crafts Association. He has been creating paintings, prints and carvings at Jilamara Arts since 1999, based on aspects of Tiwi culture especially the Kulama (Men's initiation or yam) - a ceremony for young boys to welcome them into adulthood and Pukumani (funeral) ceremonies.
Jilamara means 'design' in the Tiwi language and the Tiwi people paint Jilamara on their skin with ochre during the Pukumani ceremony to disguise themselves from the spirits of the dead. They also paint natural ochre Jilamara on Tutini poles to mark where the dead rest to help them move on from the living world.
This design in Cook's art portrays the Tiwi peoples' face and body paint Jilamara as well as Tutini poles used in the Pukumani ceremony. The piece invokes a sense of the responsibility that the Tiwi have in laying their deceased to rest and that the responsibility does not rest on one person but many, just as this design is one of the many that are painted on the body and on Tutini poles.
The red, yellow, black and white are all natural colours collected from the land and prepared for use in painting through traditional methods. The yellow ochre comes from the earth on the mainland of the Tiwi Islands, the red is made by heating up the yellow ochre over an open fire, the black is from charcoal and the white is from the cliff faces on the coast. All these natural colours coming together in this cultural design portray how important it is for the Tiwi people to continue teaching their culture through art.
Cook's artwork is represented nationally in leading public institutions including the National Gallery of Victoria, The Museum of Contemporary Art in Sydney and The Art Gallery of NSW, as well as internationally. This work is one of several paintings and prints by Cook held in The Wesfarmers Collection of Australian art.
© Timothy Cook and Jilamara Arts and Crafts Association. Melville Island, NT.