Officeworks - Sourcing products and services ethically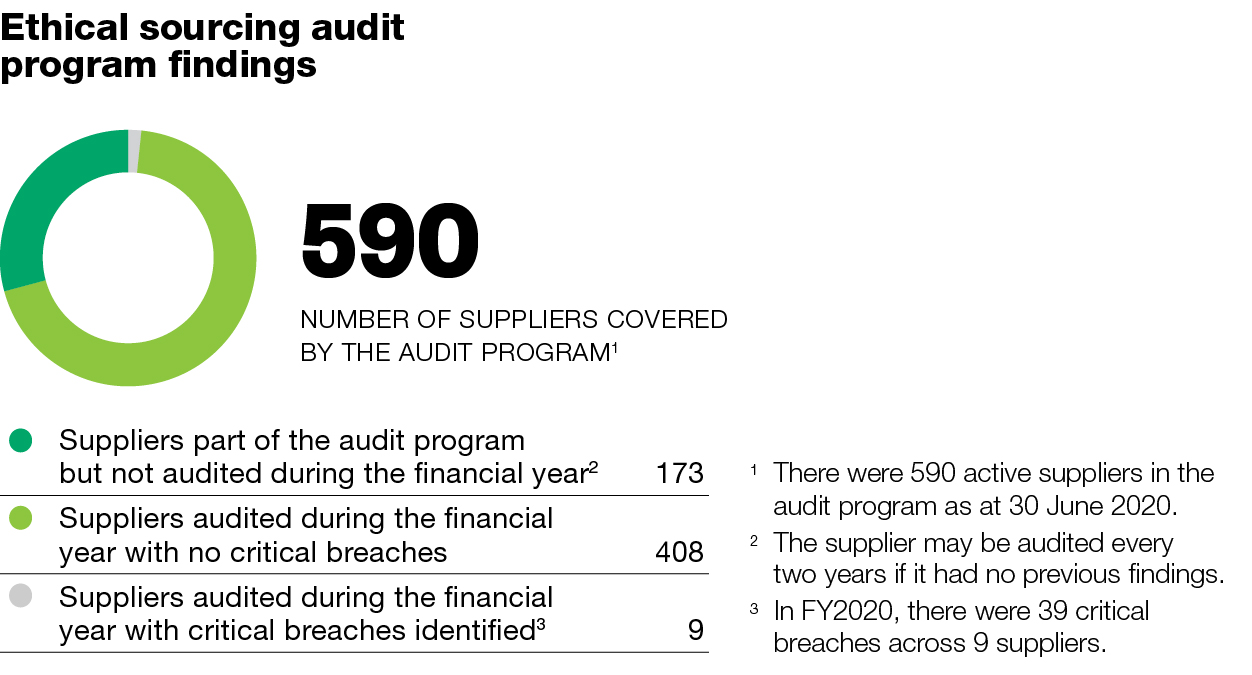 Global goods and services supply chains are complex, often with products or components manufactured in countries where laws designed to protect workers' rights are inadequate or not enforced. Officeworks' Ethical Sourcing Program, underpinned by the Ethical Sourcing and Modern Slavery Policy, is designed to protect and uphold workers' rights and provide customers with comfort that goods and services are sourced ethically.

Officeworks has extended the transparency of its supply chain to capture the primary manufacturing site of over 28,000 products. These suppliers are required to undergo an initial risk assessment that seeks to identify site-based risks associated with working conditions, along with inherent risks depending on the country in which items are manufactured. Suppliers of own-brand products, or those that are identified as medium to high risk, are required to provide an independent ethical sourcing audit, which assesses compliance of standards against the Officeworks Ethical Sourcing and Modern Slavery Policy. Since ethical sourcing and modern slavery risks are not isolated to suppliers of goods, Officeworks Ethical Sourcing program also includes suppliers of goods not for resale and service providers.

During the 2020 financial year, 450 independent factory audits were reviewed with performance rating and approval periods assigned based on the number and severity of non-conformances identified. A total of 39 critical breaches were identified across nine suppliers, the most common of which related to excessive overtime and poor record keeping. In these instances, suppliers were required to remediate the issue within three months and provide supporting evidence. Reflecting remediation of previously identified critical non-conformances, Officeworks identified a relative decrease in the number of critical breaches from the prior year.

Officeworks recognises relying on ethical sourcing audits alone can have limitations, as they occur at a point in time and the concerns of workers may not be adequately represented. To address this, Officeworks conducted worker voice surveys at selected sites to get a better understanding of worker concerns, including attitudes to working hours and impacts associated with COVID-19. Preliminary findings at three sites suggested that while the majority of workers were comfortable about the hours worked, they were anxious about ongoing financial security and potential health impacts caused by COVID-19.

Throughout COVID-19, Officeworks maintained communication with suppliers and developed a COVID-19 Ethical Sourcing Supplier Guide to support suppliers in understanding key risks caused by the pandemic and considerations to mitigate these risks. This included guidance relating to health, safety and hygiene standards. With increased production demand caused by increased sales, Officeworks is continuing to monitor risks associated with excessive working hours in addition to health and safety standards.

During the period, Officeworks engaged a consultancy to review the effectiveness of its Ethical Sourcing Program, with outcomes used to inform its 2025 Ethical Sourcing and Human Rights targets. From next year, Officeworks will work more closely with direct suppliers to create positive outcomes for workers and increase the representation of worker voice.