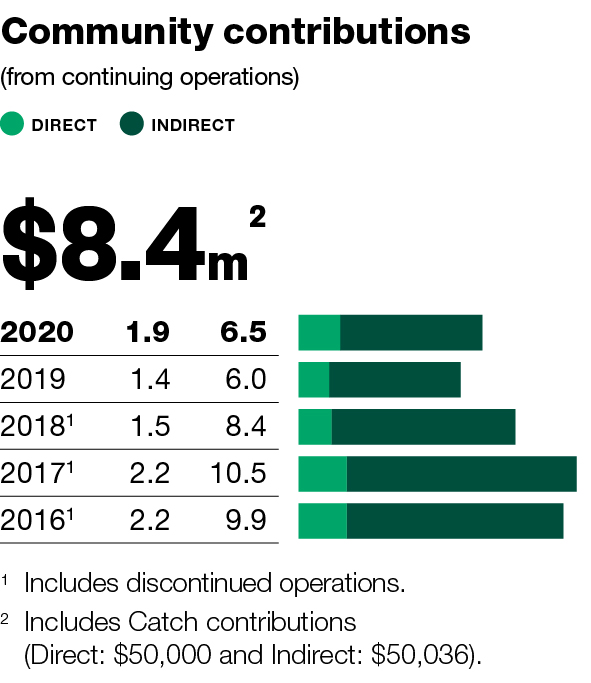 Throughout the 2020 financial year, Kmart Group continued to work with local communities to meet a diverse range of needs with a focus on supporting the physical and mental wellbeing of young people and their families. Kmart Group recognises the importance of its community work, particularly this year, with the impacts of the bushfires on local Australian communities and the challenging economic conditions the community sector face due to COVID-19.

This financial year, Kmart contributed more than $7.2 million, Target almost $1.1 million and Catch more than $100,000 to charities and community groups.

A significant component of these donations went towards Australian bushfire relief totalling over $1.0 million, including donations by Kmart, Target and Catch and customer donations.

Kmart Group thanks its customers for their generous support of bushfire impacted communities and the contributions they made to the Kmart and Target Bushfire Relief Appeals. See more details on the Kmart Group bushfire response.
Kmart

Kmart's support of Headspace, The Reach Foundation and the Graeme Dingle Foundation (NZ) raised over $160,000 through customer and team member collections. Kmart's sponsorship of the National Basketball League (NBL) Gametime also continued with more than 83,000 students participating in basketball clinics encouraging healthy living and team sports.
Kmart donated over $100,000 in gift cards and goods to grassroots community groups and, with the help of customers, more than $503,000 to support bushfire impacted communities through their charity partner The Salvation Army.
In the lead-up to Christmas, The Kmart Wishing Tree Appeal collected over 260,000 gifts and raised $212,177 across Australia and New Zealand. Kmart team members and their families also joined hospital volunteers to install Christmas trees throughout The Royal Children's Hospital Melbourne.
Internationally, Kmart continued to support the Salaam Baalak Trust foundation in India and looks to extend local community support in the future.
Target
The Alannah and Madeline Foundation remained a key partnership for Target in the 2020 financial year, with over $55,000 donated by the Target support office and customers. During the Christmas period, the Target UnitingCare Australia Christmas Appeal raised more than $224,000 and collected over 13,000 gifts across Australia.
Target contributed to the bushfire relief by donating $396,000, with the help of customer donations, to UnitingCare Australia to support bushfire impacted communities. Target also donated pallets of sample goods to various charities in Melbourne, including The St Vincent de Paul Society.