Industrial and Safety - Climate change resilience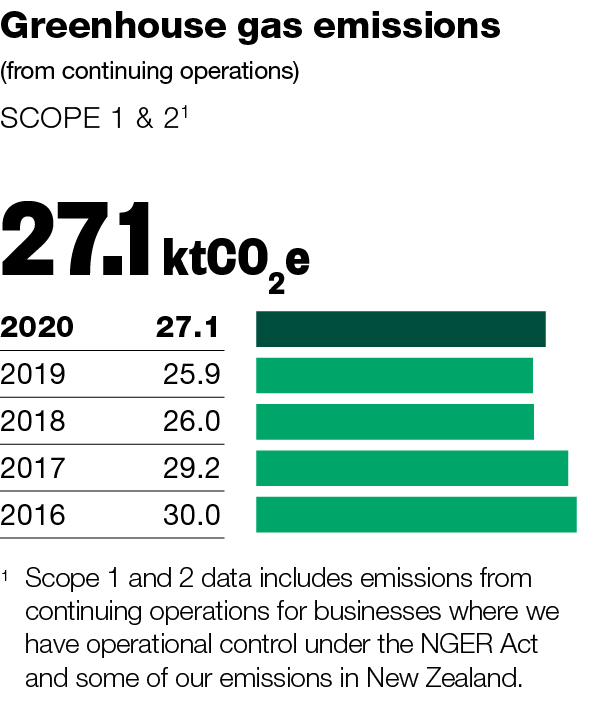 We strive to reduce carbon emissions associated with our businesses activities and improve resilience to climate change. We strive to reduce our water and energy use where possible.
Wesfarmers Industrial and Safety (excluding Coregas) is targeting a reduction in emissions by 12 per cent by 2025 from its 2018 financial year baseline. Coregas is largely a Scope 1 business and so its target is intensity based. Coregas' 2025 target is that its emissions per unit of production are below the mean of comparable peers.

During the 2020 financial year, the division engaged an external energy consultancy to assess emission reduction opportunities across the business units as well as specific emission intensity options for Coregas in relation to comparable peers. The carbon reduction assessment included opportunities relating to LED lighting upgrades, rooftop solar, re-deployable solar and procurement of green power as part of electricity contract renewals. The most suitable options will be assessed for inclusion next year as part of the Wesfarmers Industrial and Safety carbon emissions reductions program.

Coregas identified the potential use of zero emission hydrogen-powered trucks in its fleet to deliver bulk gases to Sydney customers. The feasibility of this initiative will be explored further the 2021 financial year. Coregas has also fitted sensors in fleet tanks, providing discrepancy alarms and improving transport security. This enables more efficient resource planning and decreases costs and the number of empty tanks being transported. Greencap has started to transition its fleet to hybrid or electric vehicles, with nine completed in the financial year and six more expected next year and in 2022. As the majority of power in New Zealand is generated through renewable sources, NZ Safety Blackwoods will continue to review opportunities reduce its carbon footprint.

Industrial and Safety businesses are on track to achieve their targets by 2025 and will continue to assess carbon reduction improvement opportunities.