WesCEF - Supporting communities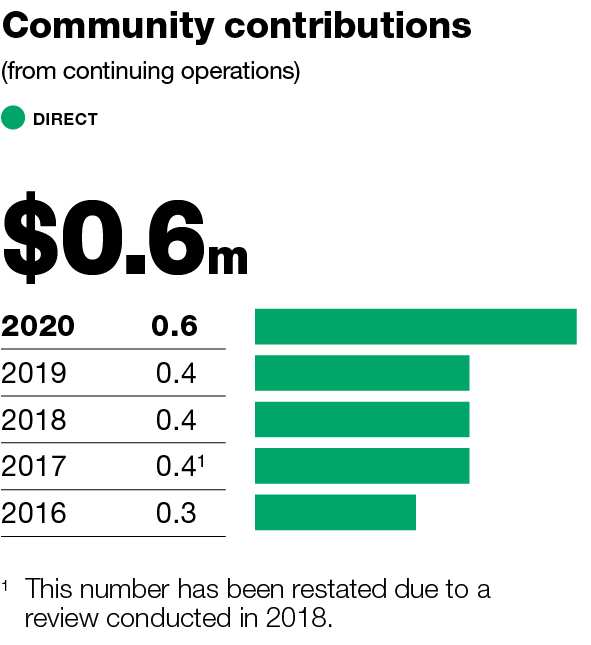 Wesfarmers Chemicals, Energy and Fertilisers (WesCEF) continues to invest in the communities in which it operates to support the long-term sustainability of WesCEF and its businesses and build its reputation as a good corporate citizen. This is achieved by supporting activities that build community trust and advocacy and position WesCEF as an employer of choice.

In the wake of the Australian bushfires, WesCEF employees donated $16,423 to the Australian Red Cross Disaster Relief and Recovery fund. This amount was matched by the business taking the total donation to $32,846.

During the year, WesCEF formed two new partnerships focusing on education and the environment. Preparation for both partnerships began in the 2020 financial year, but unfortunately COVID-19 delayed the start to the 2021 financial year.

WesCEF and two of its businesses, Kleenheat and CSBP, redirected some of their community investment funding to support the community in other ways during the COVID-19 pandemic.

WesCEF committed $10,000 to help Indigenous community members in Kwinana and Rockingham have access to COVID-19 support services, food and medical supplies through its partnership with the local Indigenous Community Health Centre, Moorditj Koort.

WesCEF also made donations to Western Australian food assistance charities, Feed the Frontline and Foodbank WA.

CSBP Fertilisers continued to support Lifeline WA, and Kleenheat revised its customer rewards program Kleenheat Treats, making it available to everyone living in Western Australia and the Northern Territory. Over 10,000 people were nominated and 2,000 winners received a $100 gift card.