Bunnings - Waste and packaging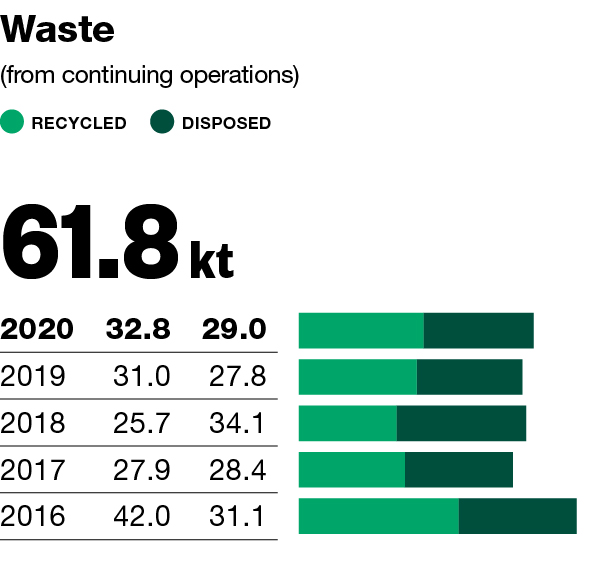 Overall reduction of waste, improving recycling rates and increasing diversion from landfill remain key to Bunnings' efforts to reducing its environmental impact across the network.

Bunnings is a signatory to the Australian Packaging Covenant Organisation (APCO) and is committed to its target of 100 per cent sustainable packaging by 2025. During the year, Bunnings worked with suppliers to understand requirements to transition to sustainable packaging by 2025 and embedded APCO's Sustainable Packaging Guidelines into its packaging guidelines and range review process.

Bunnings also introduced the Australasian Recycling Label (ARL) to several products to help customers better understand packaging recycling and will continue to implement the ARL to additional products next financial year.

Additional initiatives were introduced to greenlife products, with excess plastic clips and plastic sleeves removed, label sizes reduced and label shapes redesigned to minimise waste in printing. Bunnings also shifted away from coloured plastic pots, towards black plastic pots that use more recycled material.

During the year, Bunnings worked with social enterprises, businesses and not-for-profit organisations to provide recycling programs for products including batteries, paint and electrical items such as power tools. Collectively, these initiatives resulted in customers bringing back over 8,800 kilograms of batteries for recycling through 13 metropolitan Melbourne stores and customers dropping off over 1.28 million kilograms of e-waste in South Australia through Minda's Unplug N' Drop program. Bunnings' support for Minda continued to create more than 50 jobs for Minda employees with a disability. Bunnings collected over 10,000 kilograms of waste paint and packaging through two Paintback events, with the remaining planned events unfortunately postponed due to COVID-19.

In the next financial year, Bunnings will heighten its focus on waste reduction across the business through improved reporting and management of waste streams and diversion from landfill. The team will also continue efforts on collecting product packaging data for products sold across the network.