Officeworks expands recycling to batteries, pens and markers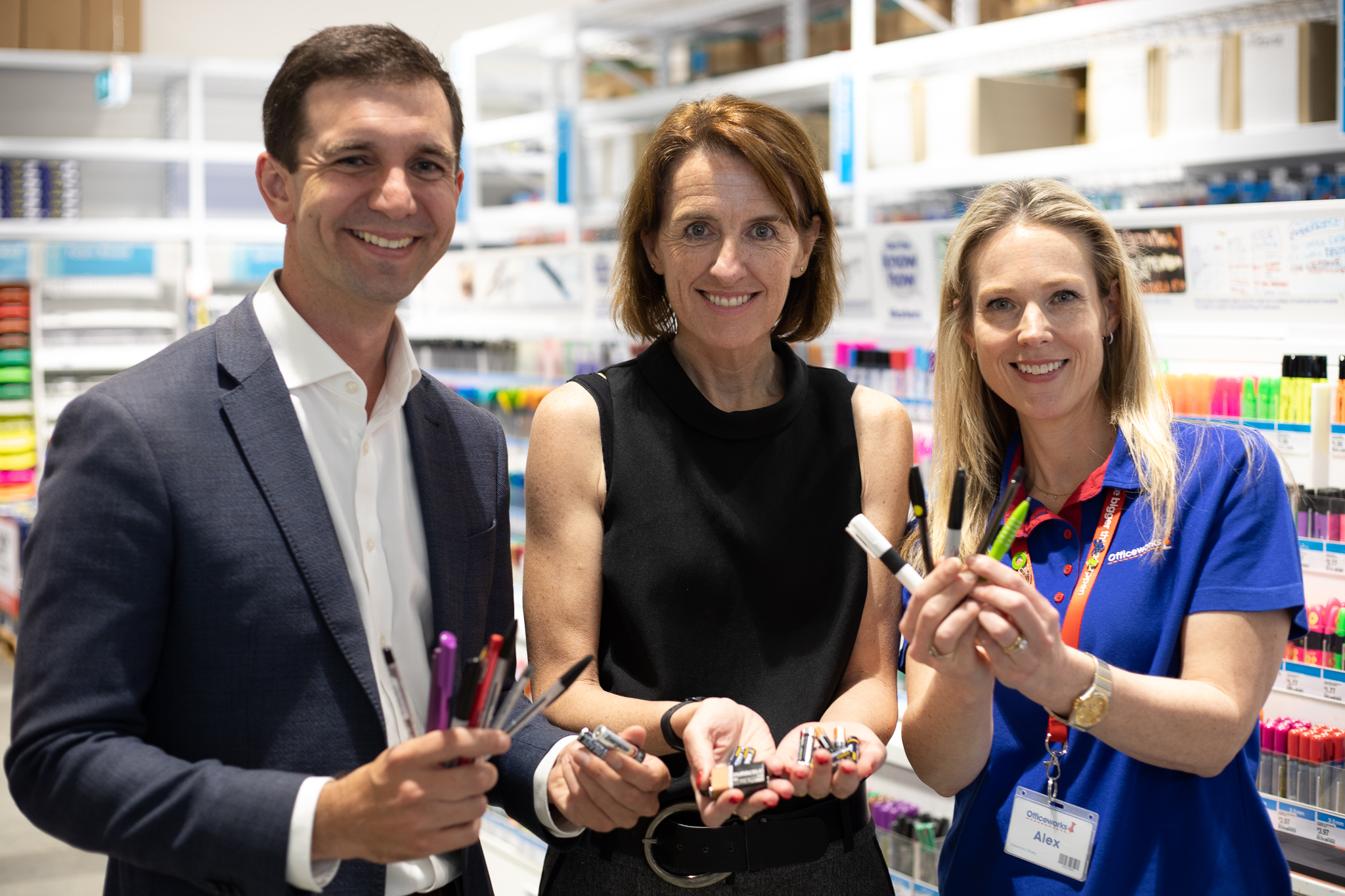 Officeworks has announced a new and convenient way for customers to dispose of old batteries, pens and markers, as part of upgrades to recycling stations across most of its stores over the next 12 months.

The Federal Assistant Minister for Waste Reduction and Environmental Management, the Hon. Trevor Evans MP, and the Federal Member for Curtin, Celia Hammond MP, launched the roll out of the new recycling stations at Officeworks' Osborne Park store in Western Australia in November, coinciding with National Recycling Week.
Existing in-store collection points allow customers to recycle e-waste and ink and toner cartridges. With only three per cent of batteries currently recycled in Australia, the new program provides a significant opportunity to make recycling batteries accessible for more Australians. Currently batteries are commonly thrown into general household waste bins, meaning they go straight to landfill.
After successful trials in five stores, Officeworks plans to roll out battery recycling to all its stores by the end of 2020, in partnership with Envirostream, an Australian battery recycling company. The pen and marker recycling program will be available in most stores within the next year, delivered in partnership with BIC.
Officeworks General Manager Corporate Affairs, Alexandra Staley, said customers want to dispose of their unwanted items such as batteries responsibly, and appreciate there's value in recovering and reusing the materials.
"To date we've helped our customers recycle more than 4,800 tonnes of e-waste, but we know there's more opportunity in other waste streams," Alex said.
Officeworks established Bring it Back in 2012, which provides customers the opportunity to recycle computers and laptops, monitors, keyboards, printers, mice, hard drives, mobile phones and accessories, cables, chargers, DVDs and CDs. Since 2005, Officeworks has also been involved in Cartridges 4 Planet Ark, which has seen customers drop off more than 10 million ink and toner cartridges at its stores for recycling.

Customers can find out which recycling services are available at their local Officeworks by checking the store locator online at https://www.officeworks.com.au/shop/officeworks/storelocator.
Categories: environment