Ethical sourcing audit programs
To mitigate the risk of unethical practices occurring in our supply chains, all our businesses apply a human rights and ethical sourcing audit program to certain suppliers. We take a risk-based approach to managing ethical sourcing issues and concentrate on suppliers supplying own-brand products as well as services, both in Australia and overseas. We recognise the risks of modern slavery occurring anywhere and in any industry and this year expanded our ethical sourcing due diligence program to consider all suppliers of products (both goods for resale and not for resale) and services.
At the end of this year, the businesses' audit programs covered more than 3,700 factories supplying to our businesses. The number of factories audited has reduced from last year as a result of a combination of the demerger of Coles, consolidation of factories used by divisions and the utilisation of pre-existing sites which have already been audited and approved for two years last financial year. The decrease in the number of factories audited signifies some of our businesses preference for longer-term partnerships with fewer and existing factories.
Factories in the businesses' audit programs are required to have undertaken an assessment as mandated by our business. Factories may then be required to undertake further assessments including having a current audit certificate, which means they have been audited by our businesses or another party whose audits we accept. The audits identify a range of non-compliances, from minor non-compliances such as minor gaps in record keeping to critical breaches, such as incidences of forced labour or bribery.
During the year, we identified 127 critical breaches across 90 factories. The critical breaches identified included allegations relating to excessive overtime, lack of transparency, safety, forced labour, unauthorised subcontracting and bribery. Where a non-compliance is identified, the factory is required to fix the issue, within an appropriate period of time, depending on the nature of the non-compliance.
We were able to remedy 69 of these issues immediately, 43 had action plans that were on-track at the end of the reporting period, five were exited immediately and no further supply orders were placed at the remaining 10.
Our businesses regularly engage with workers in tier-one factories in our supply chain through factory visits (announced and unannounced), through the audit program and our grievance mechanisms. Through these engagements, we seek feedback on how well the policies and procedures outlined in our Modern Slavery Statement work in practice.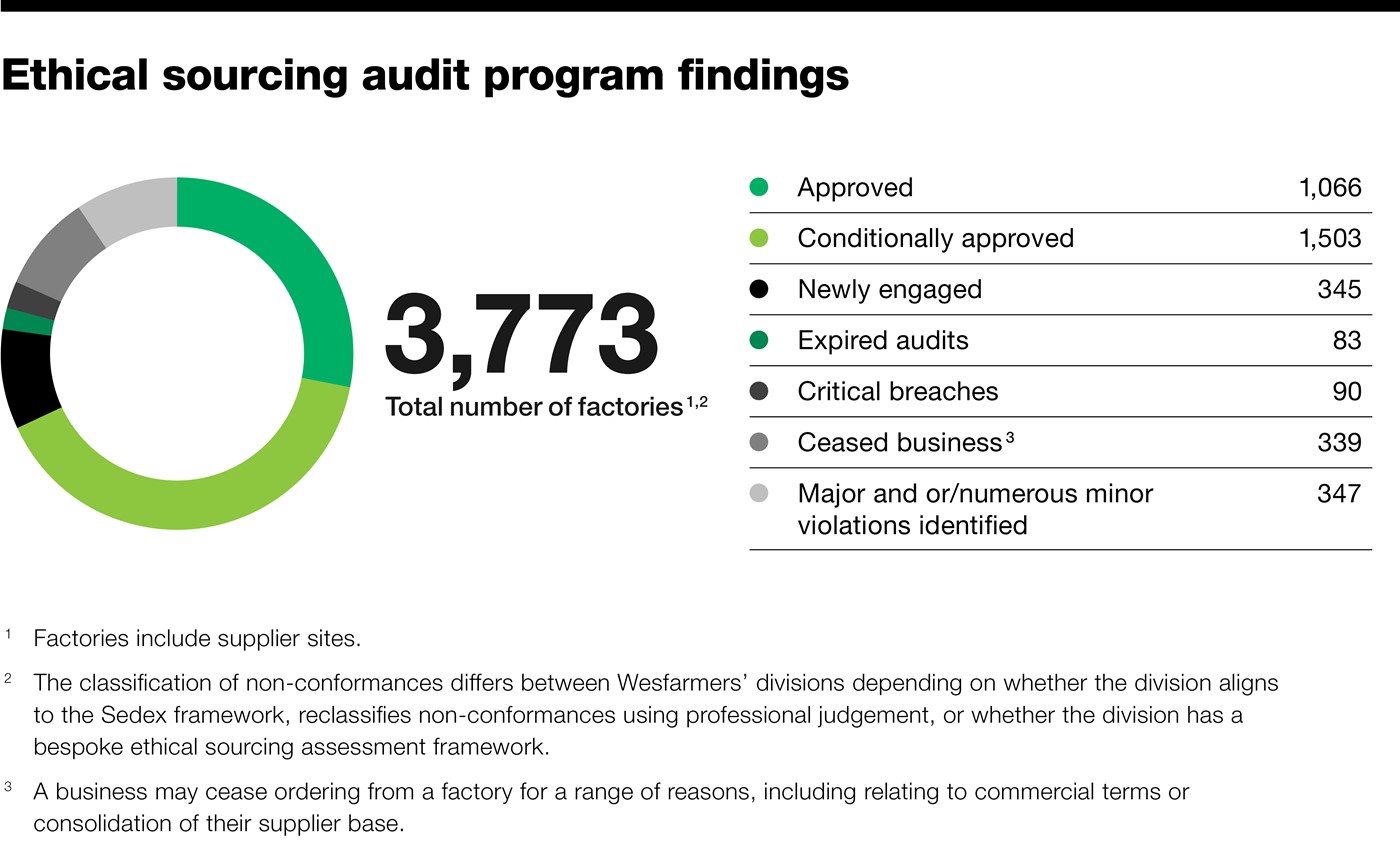 Other pages in this section