Ethical sourcing and human rights

Ethical sourcing and human rights
We strive to source products in a responsible manner while working with suppliers to improve their social and environmental practices.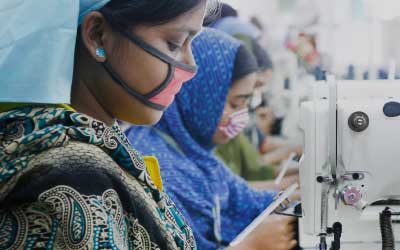 We strive to source products in a responsible manner while working with suppliers to improve their social and environmental practices.
Wesfarmers continues to identify ethical sourcing and human rights in our supply chain as one of our most material areas of focus. Wesfarmers believes that the new Australian Modern Slavery Act will improve transparency and support the goal of eliminating modern slavery in Australian public and private sector entities and their supply chains.
Our businesses directly source products from more than 14,500 suppliers in more than 20 countries. Some of the major locations we source from outside Australia include China, Bangladesh, New Zealand, India, Thailand and Vietnam. While our operations and supply chains are complex, our aim is to ensure that human rights are understood, respected and upheld across our supply chain.
We expect our partners and stakeholders to adhere to ethical business practices consistent with our own and are committed to working with them to fulfil this common goal.
We continue to work with external expert partners to ensure we are constantly improving our management of ethical sourcing. Following that work, and as part of our ongoing focus on improvement, we have made progress in the following areas:

Expanded ethical sourcing and modern slavery scope: We expanded our ethical sourcing and modern slavery approach to include goods not for resale and services across the Group. This expansion in scope also means that our industrial businesses have increased their focus on ethical sourcing and modern slavery and have developed their own frameworks;
Resourcing to tackle modern slavery risks: All our divisions and the Corporate Office reviewed current resourcing dedicated to tackling modern slavery risks and made appropriate adjustments;
Modern slavery governance: We developed an enhanced Ethical Sourcing and Modern Slavery Policy as well as a reporting template that sets higher standards expected of our businesses and their suppliers and captures the maturity of our businesses' approaches to ethical sourcing and modern slavery;
Modern slavery risk embedded into mergers and acquisition due diligence: A checklist has been developed with modern slavery as an item to consider in relevant merger and acquisition due diligence processes;
Modern slavery standards embedded into Group procurement decisions: Modern slavery review processes have been included in all Group-wide tender processes and contracts; and
Modern slavery training: We have developed an online Modern Slavery training module at our Corporate Office which will be rolled out in the coming year.
Our current Modern Slavery Statement is available here.
GRI Standards reference: GRI 102-9, GRI 102-10, 102-15, GRI 102-16, GRI 103-1, GRI 103-2, GRI 103-3, GRI 407-1, GRI 408-1, GRI 409-1, GRI 412-1, GRI 412-2, GRI 414-2
Other pages in this section