Wesfarmers' businesses provide job-specific and career development training which includes technical skills, product knowledge, customer service, team work and leadership. These programs are available to full-time, part-time and casual team members.
At the Wesfarmers Group level, the Talent Team is focused on connecting leaders to our guiding principles and strategic focus areas and to other leaders across the Group. We seek to support our leaders' development in collaboration with the businesses in which they are employed.
The key guiding principles include our Values and Leadership Model.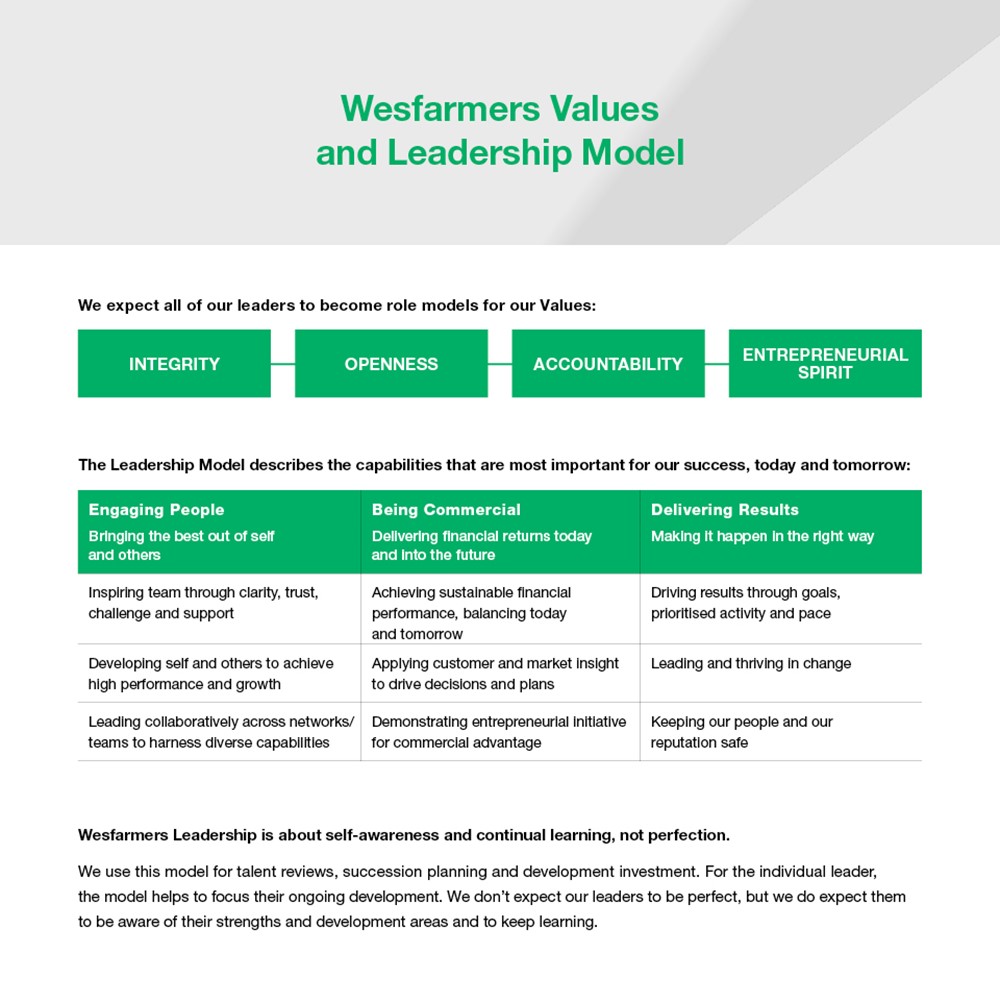 We focus on setting standards for talent, leading cross-divisional talent development processes and supporting the individual development of our most critical and highest potential leaders.
This year, Wesfarmers has also launched a Group-wide investment to build awareness and capability in data analytics, in line with our strategic focus.
Our processes for identifying, developing and retaining talent are categorised into four work streams: Know, Grow, Connect and Include, as shown below.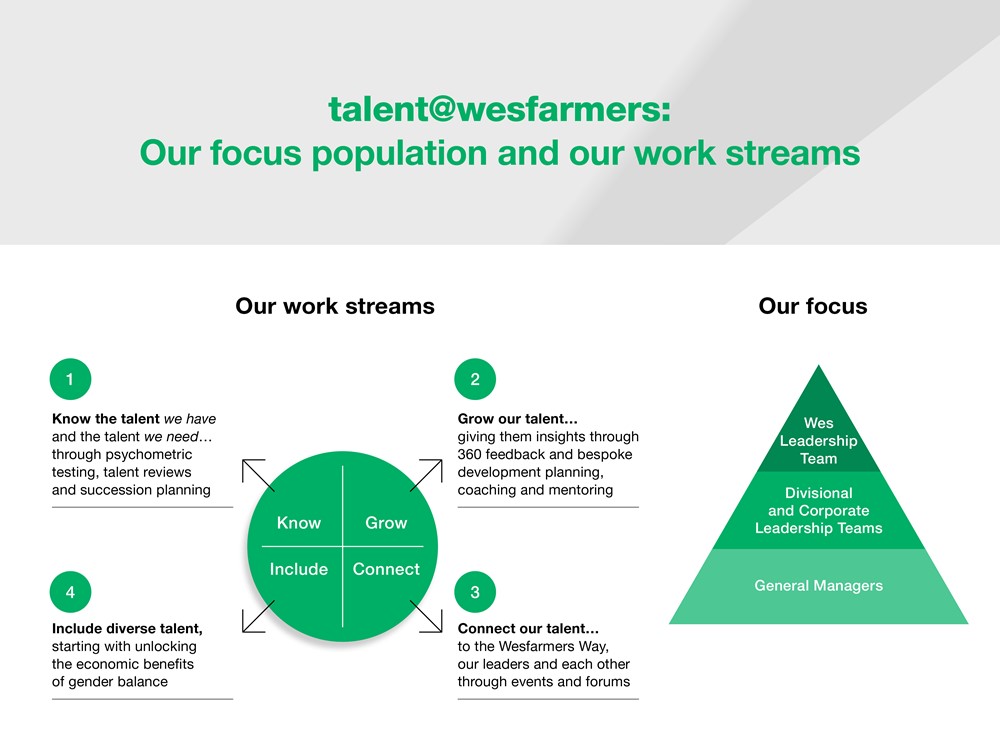 Our key Group leadership development and talent management-related activities include:
designing and delivering the biannual Wesfarmers Leadership Conference for the top 150 leaders on the future of technology, talent and entrepreneurial initiative;

connecting Human Resource Leaders across the group with world-leading expertise on the Future of Work, workforce and capability;

delivering and distributing WES talks – 21 talks on leadership challenges and personal storytelling accessible to all team members via a mobile platform;

launching the Commercial Leaders Program, a leader-led and case-study-based program for General Managers, focused on enhancing commercial understanding and learning from internal examples;

providing bespoke 360-degree assessments and individual development plans for more than 50 General Managers;

facilitating twice yearly divisional talent reviews, focused on divisional leadership team bench-strength and succession, chaired by the Managing Director and Chief Human Resources Officer;

launching and establishing a group-wide Learning and Organisation Development Community of Practice to share and strengthen practices on training and capability;

enhancing individual development experiences for leaders through the increased use of psychometric assessment; and

designing enhanced pre-boarding, on-boarding and induction experiences for new leaders, including a two-day Wesfarmers induction workshop (that was piloted in September 2019).
At the Group level, a key area of work is increasing our analytics capability in line with Wesfarmers' focus on data and digital. Following the launch of our Advanced Analytics Centre (AAC) in 2018, this year marked the introduction of Group-wide capability building associated with data analytics.
Successfully introducing advanced analytics competence across the Group has required multifaceted training to ensure the appropriate degree of analytics awareness, understanding or capability, dependent on role. Everyone plays a part in the success of an advanced analytics business solution, whether they are a leader in a business requiring awareness, an analytics team member requiring specific and technical capability or a team member interacting with an analytics project team requiring understanding.
Early in the year, over 150 leaders took part in the AAC Leadership Academy program which focused on the role of the leader in analytics projects and formally launched the analytics journey within their respective businesses. Throughout the year, and in the coming year, the Use Case Foundations training is being rolled out to 130 team members in a variety of roles, within or supporting our analytics teams. This program provides an overview of advanced analytics at Wesfarmers as well as a deeper dive into the approach of a 'use case' (being a project or business problem being solved with analytics) and how it may be delivered in the division.
Another ongoing initiative was the establishment of three communities of practice, which were set up to allow team members across the group in the roles of Data Scientist, Data Engineer and Business Translator to connect, share knowledge and solve common problems. The end of this year brought all these communities together with the inaugural Wesfarmers Advanced Analytics Conference which provided our first opportunity to internally showcase the outcome and progress of use cases throughout the divisions and to connect team members working with analytics across the group.
In order to accelerate their own analytics journeys, divisions have also continued to build on these initiatives via the piloting of data literacy programs and hosting of knowledge sharing events. Over the coming year, the AAC will continue to support this Group-wide capability development in response to both the range of use cases emerging and evolving technical needs of the analytics teams.
GRI Standards reference: GRI 401-1, GRI 402-1, GRI 404-2, GRI 103-1, GRI 103-2, GRI 103 -3
Other pages in this section