Our vision for reconciliation
Our vision for reconciliation is an Australia that affords equal opportunities to all. Wesfarmers is focused on ensuring that Indigenous people feel welcome in our businesses as team members, customers, suppliers and visitors.
Wesfarmers' Reconciliation Action Plan is focused on five core areas.
1. Sustainable employment
As one of Australia's largest employers, we believe we can provide Indigenous people with opportunities to participate in sustainable employment. As at 30 June 2019, we employed 1,755 Indigenous team members which is 1.8 per cent of our Australian workforce. When we demerged Coles in November 2018, Wesfarmers was the largest employer of Indigenous people with 2.5 per cent of our Australian workforce identifying as Indigenous. Following the demerger of Coles, we recognise that we have work to do to return to employment parity and we have set a target of employment parity which is three per cent of our workforce by 2022.
Indigenous team members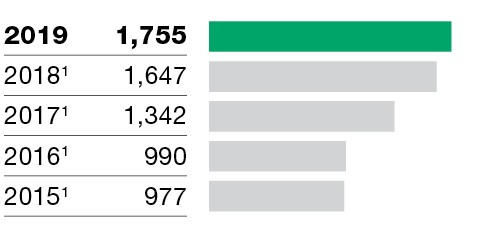 2. Career progression
We want to provide our Indigenous team members with fulfilling jobs including opportunities to build successful careers which progress through the organisation. We have an opportunity to increase the number of Indigenous people in management positions and have plans to support the leadership development of high potential Indigenous team members in the coming year.
3. Indigenous procurement
Increasing the diversity of our supplier base is an important area where we can make a real difference to the economic prosperity of Indigenous communities. During the year, we paid approximately $25 million to Indigenous suppliers. We recognise that there is more we can do in this area to help Indigenous businesses develop and scale and we are committed to this.
4. Community partnerships
We recognise the value in collaborating with national and local community partners. We are particularly proud of our partnership with The Clontarf Foundation which dates from 2001, as a founding supporter. We currently employ around 260 young Indigenous men through Clontarf. It is rewarding to see students complete their high school education and enter the workforce, sometimes within our businesses.
5. Celebrating Indigenous culture
Indigenous art stands as Australia's most significant contribution to world culture. As a nation, we benefit enormously from the opportunity to understand more about the richness and diversity of Indigenous culture through the work of Indigenous artists.
Wesfarmers has supported Indigenous cultural organisations, artists and communities for over four decades – both through actively collecting the work of living Indigenous artists for The Wesfarmers Collection of Australian Art and through our partnerships with premier Indigenous arts companies like Yirra Yaakin Aboriginal Theatre and The National Gallery of Australia (NGA). Since 2005, we have been NGA's Indigenous Art Partner supporting the development, training and mentorship of future Indigenous leaders in the arts industry through our Leadership and Fellowship programs. The benefits of fostering Indigenous arts leadership are felt not only within the cultural community, but also more broadly in Australian society at large as we increasingly embrace Indigenous ways of looking at and experiencing the world in which we live.
In October 2018, we announced a new six-year, $4 million partnership with the NGA which includes a major, multi-year international touring exhibition of Indigenous art from the Wesfarmers Collection and NGA in Asia from 2020.
The international exhibition will be drawn from the NGA's and Wesfarmers' collections and travel to Singapore, Hong Kong and cities in China. The first venue will be the National Gallery of Singapore. The exhibition will show rare works from the 1800s through to Albert Namatjira's renowned watercolours, the dynamic Papunya movement and contemporary works by some of Australia's best known artists. The project is Indigenous led and developed, providing an opportunity for alumni of the Wesfarmers Arts Indigenous Arts Leadership Program to work on the international stage.
In 2019, Wesfarmers corporate office contributed $3.4 million in support of the activities of 14 leading arts organisations and acquired several major works of Indigenous art for The Wesfarmers Collection of Australian Art.
GRI Standards reference: GRI 103-1, GRI 103-2, GRI 103-3, GRI 405-1, GRI 103-1, GRI 103-2, GRI 103-3, GRI 406-1
Other pages in this section