Managing waste is a significant issue for all our businesses and reducing operational and packaging waste will be a major focus in the year ahead. Our retail businesses are signatories to the Australian Packaging Convenant Organisation (APCO) and report in line with its targets annually.
On a continuing operations basis this year, we decreased our waste to landfill by nine per cent to 58,167 thousand tonnes while keeping waste recycled comparable to last year for continued operations, at 107,383 tonnes.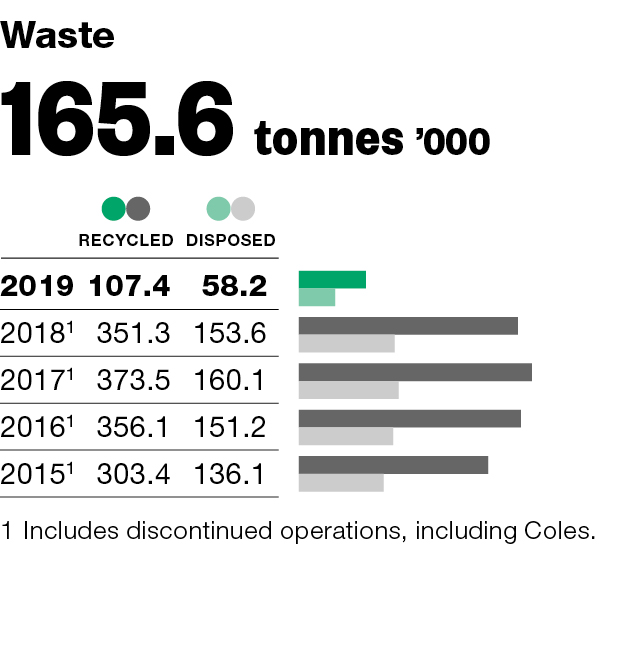 Some of the initiatives undertaken during the year included:
all Kmart and Target stores have stopped providing single-use shopping bags following the implementation of voluntary bans across Australia, with all entry level re-usable bags now containing recycled material. This move has reduced plastic bag use in Western Australia and Queensland by 80 per cent since July 2018;
Blackwoods is in the process of conducting a review of waste providers and services, and Workwear Group continued to progress towards business solutions for redirection from landfill to reduce environmental impact; and
Officeworks ran a series of workshops that involved team members sorting their general waste bins to understand how recyclable materials may have entered the waste stream, and what changes they could make at their own store. The behaviour change program resulted in 16 stores recycling more than 90 per cent of their waste. In addition, the Australasian Recycling Label features on over 3,000 own-brand products.
Assisting customers with product recycling and take-back options has also been a priority. During the year:
Bunnings worked with multiple stakeholders to provide recycling programs for various products including batteries, paint, small electrical items and power tools. Collectively, these initiatives resulted in the recycling of 5,800 kilograms of batteries, 200,000 kilograms of waste paint and over 770,000 kilograms of e-waste;
Kmart Group's membership of TechCollect has funded the collection and recycling of 134,810 kilograms of complying e-waste items including televisions, computer and peripheral devices. TechCollect was set up by the Australia and New Zealand Recycling Platform as its official government-approved e-waste recycling program; and
Officeworks assisted customers to recycle unwanted electrical items, collecting a total of 867,000 kilograms of e-waste, an increase of 25 per cent on the prior year.
GRI Standards reference: GRI 103-1, GRI 103-2, GRI 103-3, GRI 306-2, GRI 417-1, GRI 418-1