The sustainable use of natural resources continues to be a key focus of Kmart Group's sustainability commitments.
Energy
Following five years of investment in energy data analytics and technology upgrades, Target Australia was awarded 'Australia's Leading Energy User' in the Energy Efficiency Council's 2018 National Energy Efficiency Awards.
Energy efficiency across Kmart Group's store network has improved by two per cent during a period which was challenged by record hot weather.
In the last year, Kmart has initiated a three-year energy plan commencing with a benchmarking exercise and energy audits of 50 high-energy consuming stores to identify energy conservation opportunities. Audit findings have been analysed and provide the basis for a program of improvements ranging from changing in-store settings through to capital upgrades and potential equipment replacement. These insights have also been incorporated into a number of pilot projects to test new approaches and technologies for potential application across all sites. We installed a 217 kilowatt solar system on the Palmerston store in the Northern Territory. Given Target's energy management program is in its sixth year, the focus has been on refinement of existing systems.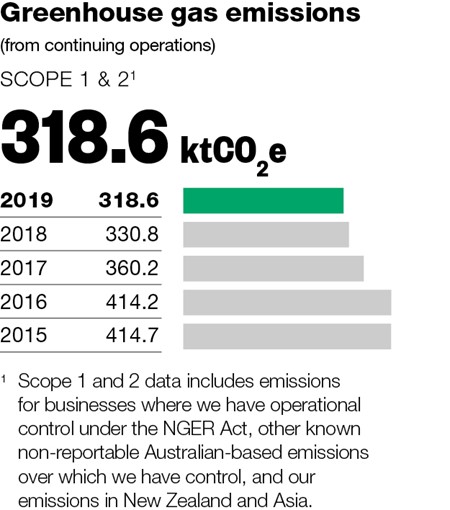 Sustainable materials
Kmart and Target continued the implementation of their sustainable cotton commitments. In March 2019, Kmart launched a Better Cotton Initiative (BCI) marketing campaign across Australia. The campaign included over 800 products in-store and online and the world's first BCI television commercial, helping to significantly boost public awareness of the BCI program in Australia.